Waste Information
Waste Hotline: 1 (833) 360-2454
County Waste Information
SPRING CLEANUP - ON YOUR REGULAR COLLECTION DAY BETWEEN APRIL 11 TO 21, 2023. Click Here to see the Spring Cleanup Guidelines

FALL CLEANUP - ON YOU REGULAR COLLECTION DAY BETWEEN SEPTEMBER 12 TO 22, 2023


Holiday Collection

Waste collection on April 7, 2023 will be cancelled, the alternate collection day is Saturday April 8, 2023

Waste collection on December 26, 2023 will be cancelled, the alternate collection day is Saturday December 30, 2023

Annapolis County Householder's Sorting Guide/Collection Map Schedule – to view a printable PDF Click Here

Interactive Waste Collection Map
The Waste Collection map has been compiled based on the most recent information available, however, errors or omissions may occur. To confirm collection days or for further information on waste disposal, sorting and collection within the Municipality, contact Valley Waste Resource Management at info@vwrm.com or call the Hotline on 1-877-927-8300 (902-679-1325).

Interactive Waste Map Click Here

General Waste Information

Garbage rules remain the same (Blue Bag 1 – paper & paper products; Blue Bag 2 – recyclables, cans, plastics, cartons, foam polystyrene products; 3 Clear Bags and 1 Black bag – all other garbage). Please ensure your waste is sorted appropriately to avoid being left behind. Waste must be place curbside prior to 6am on the day of your collection.


Some Reasons Garbage Wasn't Picked Up
Too many black bags; too many clear bags; garbage out late to curb; recyclables unclean; paper and recyclables in same bag; recyclables in clear bag; non-compostables in compost receptacle; materials frozen to ground/receptacle; cardboard not bundled properly; bags too heavy (up to 15kg); obstacles preventing pick up (snow, vehicles, construction, icy road conditions etc.)


Household Hazardous Waste
A product is considered Household hazardous waste (HHW) if it bears one of the following symbols poison, corrosive, flammable or explosive. HHW cannot be disposed of in your regular garbage, these items require special disposal. Some examples are:
Propane tanks (large & small)
Fluorescent light bulbs
Motor oil & other automotive fluids
Pool chemicals
Pesticides
Batteries (rechargeable & non-rechargeable)
Paints, stains, finish
Items can be taken to the Lawrencetown Transfer station for proper disposal located at 343 Elliot Rd.
Printable Reference Material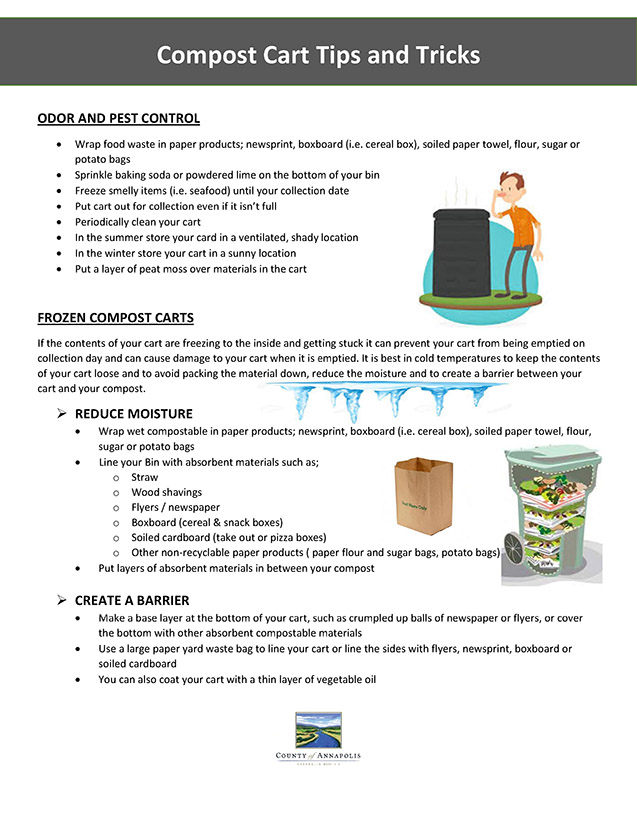 Compost Cart Tips and Tricks Click Here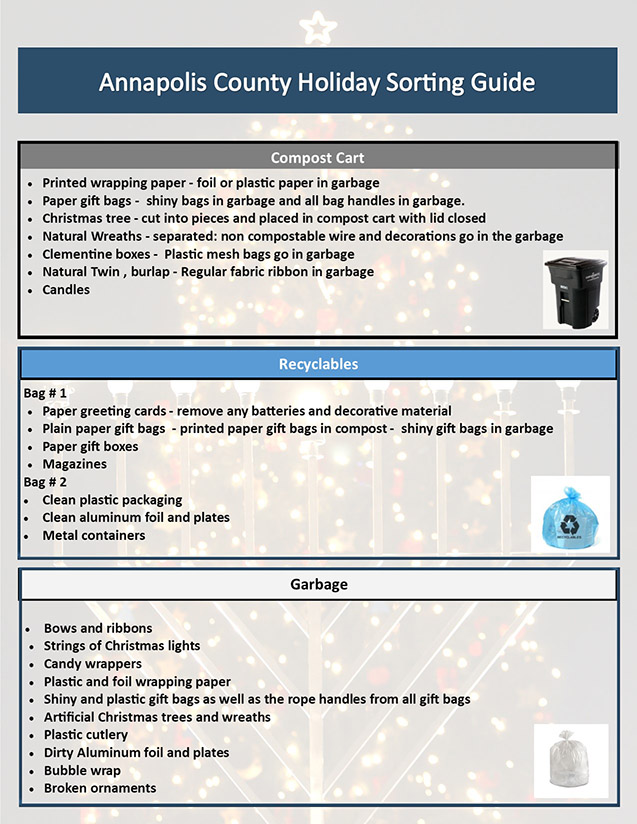 Holiday Sorting Guide Click Here