ANNAPOLIS REMO RECOGNIZES EMERGENCY PREPAREDNESS WEEK - May 1-7, 2022
ANNAPOLIS REMO RECOGNIZES EMERGENCY PREPAREDNESS WEEK - May 1-7, 2022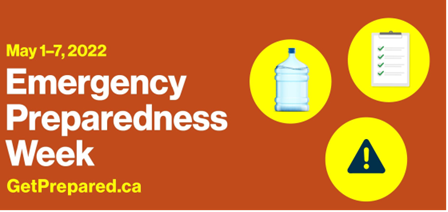 County of Annapolis, April 2022 – Annapolis Regional Emergency Management Organization (REMO) is recognizing Emergency Preparedness Week and taking the opportunity to encourage Annapolis County residents to be better prepared to protect themselves and their families during emergencies; acknowledging this year's theme of "Be Ready for Anything".
"Whether it be a pandemic, flooding, hurricanes, wildfires, or any other natural disaster, working together with community leaders, first responders, non-government organizations and all levels of government can build a more resilient and safer Annapolis County," said Brian Orde, Annapolis REMO Coordinator.
By taking a few simple steps, people can become better prepared to face a range of emergencies – anytime, anywhere.
Know the risks

– Although the consequences of disasters can be similar, knowing the risks specific to your community and your region can help you be better prepared.

Make a plan – It will help you and your family know what to do.
Get Emergency Kit – During an emergency, you will need basic supplies; remember, you may be without power or tap water for a long period of time so be prepared to be self-sufficient for at least 72 hours so get prepared and build a kit.
This year, the COVID-19 global pandemic continues to have unprecedented impact on Canadians. While governments at all levels are working hard to keep Canadians safe. You can help to protect yourself and others against COVID-19 by staying informed. We encourage all Canadians visit Canada.ca/coronavirus and Nova Scotian's to visit https://novascotia.ca/coronavirus/ for the latest information on the response to COVID-19 and more tips on how to continue to help prevent the spread.
This week, everyone is encouraged to take concrete actions to be better prepared. Please do your part," said Orde. "Remember should an emergency event occur, please think about those who may need assistance and check on your neighbors, seniors and those most vulnerable in your community."
"Experience has shown that individual preparedness goes a long way to help people cope better - both during and after a major disaster. Create your own Emergency Kit now - it can make a world of difference."
A few things to remember:
Nova Scotia Wildfire season is March 15th to October 15th. You must check daily to see if it is safe to burn by visiting https://novascotia.ca/burnsafe or call 1-855-564-2876 (BURN).
Atlantic Hurricane season runs from June to November. The risk of hurricanes in Nova Scotia is highest during the months of September and October.
For more information on preparing a Home Emergency Plan, and to learn how to prepare for all types of emergencies, visit www.getprepared.ca. Follow Annapolis REMO on Twitter @Annapolis_REMO.
Be sure to "Like" the new Annapolis REMO Facebook page and enter our EP Week 2022 contest for a chance to win a 72 Hour Preparedness Kit - https://www.facebook.com/AnnapolisREMO
(contest begins May 1st)
Be prepared! Be safe!