Staying Informed - click a tab to view more details
2018 Winter Snowshoeing Hiking Series
The County of Annapolis is hosting a series of free, entry-level guided hikes to help everyone enjoy some of the beautiful scenery Annapolis County has to offer! Join us in exploring Annapolis County in all its winter beauty!
Saturday, February 3rd, 6:00 pm - Postponed to Friday, March 2nd, 7pm (Due to icy conditions)
French Basin Trail (1.2 kms) - Rated Easy
(112 Prince Albert St., Annapolis Royal)
Join us as we partner with the Town of Annapolis Royal to offer this Moonlight Snowshoe Hike through the beautiful winter landscape.
Saturday, February 10th, 1:00 pm
Cornwallis Interpretative Trail (1.5 kms) - Rated Moderate
(Parking lot at top of Broadway Ave., Cornwallis Park)
Discover the wooded wonderland behind Cornwallis Park while enjoying this interpretative trail.
Saturday, February 17th, 1:00 pm
Mersey River Chalets (approx. 2 kms) - Rated Easy
(315 Mersey River Chalets Rd., Maitland Bridge)
A huge thank you to Mersey River Chalets for inviting us to explore their breath-taking winter wonderland. Come enjoy this quiet and solitary setting.
Click
HERE
to register now!
If you have any questions, please contact
Nadine
.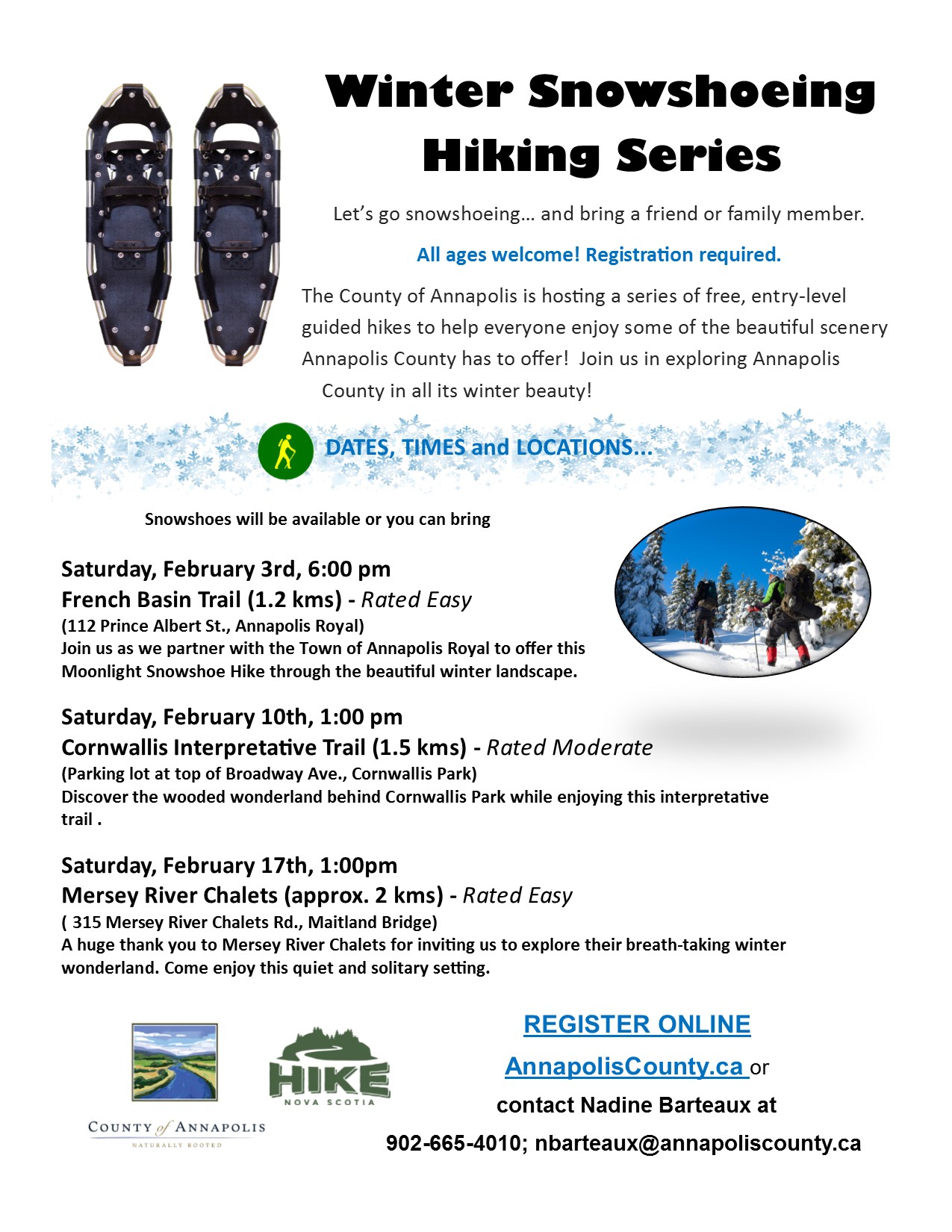 Community Halls & Centres are frequently referred to as the heart of the community and for good reason. It is most often here that much of a community's activities reside such as wedding showers, baby showers, potluck community dinners and weekly jam sessions...just to name a few. The saying goes "it takes a village to raise a child", well it also takes one to maintain a Community Hall or Centre. It is here you will find numerous community members freely giving their time and efforts to ensure their facility is always ready for the next community gathering. The County of Annapolis is proud of the many Community Halls & Centres it has throughout the area; as well as the many volunteers who keep them operating so efficiently.
The following is a list of Community Halls & Centres found throughout Annapolis County along with contact information for each one. If there is information you would like to update, add to a listing, or if you have an image of the Community Hall or Centre you would like included with the information, please contact our Communications Coordinator.
Centres and Halls
Bear River Oakdene Centre
1913 Clementsvale Road, Bear River
(902) 467-3101
Brickton Community Hall
12062 Highway 1, Brickton
(902) 584-3047
Centrelea Community Club
3495 Highway 201, Centrelea
(902) 665-2969
Clarence Community Club
3337 Clarence Road, Clarence East
(902) 584-3735
Cornwallis Park Community Association
734 Broadway Avenue, Cornwallis Park
(902) 638-3164
West Dalhousie Community Hall
4868 West Dalhousie Road, West Dalhousie
(902) 665-2355
Deep Brook Waldec Lions Club
948 Highway 1, Deep Brook
(902) 638-0431
Forest Glade Community Hall
745 Forest Glade Road, Forest Glade
(902) 765-4060
Forrester's Hall
3434 Clementsvale Road, Clementsvale
(902) 955-3409
Fundy Community & Recreation Club
5407 Shore Road, Youngs Cove
(902) 532-5337
Granville Centre Community Hall
5650 Highway 1, Granville Centre
(902) 532-5027
Granville Ferry Community Hall
5352 Granville Road, Granville Ferry
(902) 532-0901
Habitation New Horizons Club
1771 Granville Road, Port Wade
(902) 532-5391
Hampton Social & Recreation Society
8319 St. Croix Cove Road, Hampton
(902) 665-2558
Inglisville Community Club
1407 Inglisville Road, Inglisville
(902) 824-1322
Litchfield-Delaps Cove Community Hall
2792 Shore Road, Litchfield
(902) 532-7174
Lower Granville Community Hall
3551 Granville Road, Port Royal
(902) 532-5664
Maitland Bridge Community Hall
701 Highway 8, Maitland Bridge
(902) 682-2192
Margaretsville Community Hall
1 Seaman Street Margaretsville
(902) 825-6834
Melvern Square & Area Community Association
165 Bridge Street, Melvern Square
(902) 765-8158
Middleton & District Lions Club
8921 Highway 10, Nictaux Falls
(902) 825-4374
Milford area Community Association
5439 Highway 8, Milford
(902) 532-5606
Moschelle Community Hall Society
718 Highway 201, Moschelle
(902) 532-5268
Mount Rose Community Club Trustees
1840 Arlington Road, Mount Rose
(902) 247-1303
Paradise Community Hall
10300 Highway 1, Paradise
(902) 584-3511
Parkers Cove Fundy Thread & Thimble Club
4462 Shore Road, Parkers Cove
(902) 532-2718
Port George Regional Recreation Centre
12256 Shore Road, Port George
(902) 825-3858
Port Lorne Community Centre
557 Port Lorne Road, Port Lorne
(902) 584-7122
Round Hill Hall Company
1689 Highway 201, Round Hill
(902) 532-0169
Three Rivers Community Association
41 Messenger Road, Torbrook Mines
(902) 765-3838
Tupperville Community Hall
2586 Highway 201, Tupperville
(902) 665-4494
Victoria Beach United Baptist Church
821 Granville Road, Victoria Beach
(902) 532-2826
West Paradise Community Hall
5154 Highway 201, West Paradise
(902) 665-4722
Wilmot Community Group
13972 Highway 1, Wilmot
(902) 825-3540
Royal Canadian Legions
Royal Canadian Legion, Port Royal Branch 21
66 Victoria Street Annapolis Royal
(902) 532-5196
Royal Canadian Legion, Branch 22
1877 Clementsvale Road, Bear River
(902) 467-3705
Royal Canadian Legion, Branch 033
20 Jeffery Street Bridgetown
(902) 665-2820
Royal Canadian Legion, Branch 122
2008 Highway 1, Clementsport
(902) 638-3303
Royal Canadian Legion, Branch 112
490 Main Street Lawrencetown
(902) 584-3027
Royal Canadian Legion, Branch 001
205 Marshall St., Middleton
(902) 825-4751