Annapolis Royal Office Open to the Public
The County Administration Office in Annapolis Royal will be open to the public commencing February 1, 2021. Other municipal sites and offices will currently remain closed to the public. Hours of service to the public will be 9:00 am to 12 noon and 1:00 pm to 4:00 pm.
Although our Annapolis Royal Office is being opened to the public, we continue to operate under the provincial state of emergency. In order to adhere to required protocols, not all municipal employees will be on site. Please consider the following before coming to our office:
Before You Come To The Office . . .
Consider the reason for your visit – Staff are available by phone and email to answer questions and arrange many services you may need. If you need to speak with a specific employee, please contact them by phone or email in advance to arrange an appointment.
Payments - Tax, sewer and water payments may be made through automated teller machines, telpay/internet banking services and pre-authorized payments plans. Cheque payments may also be left in the drop box at the Annapolis Royal Office.
COVID-19 Protocols – Please review our protocols below prior to your visit: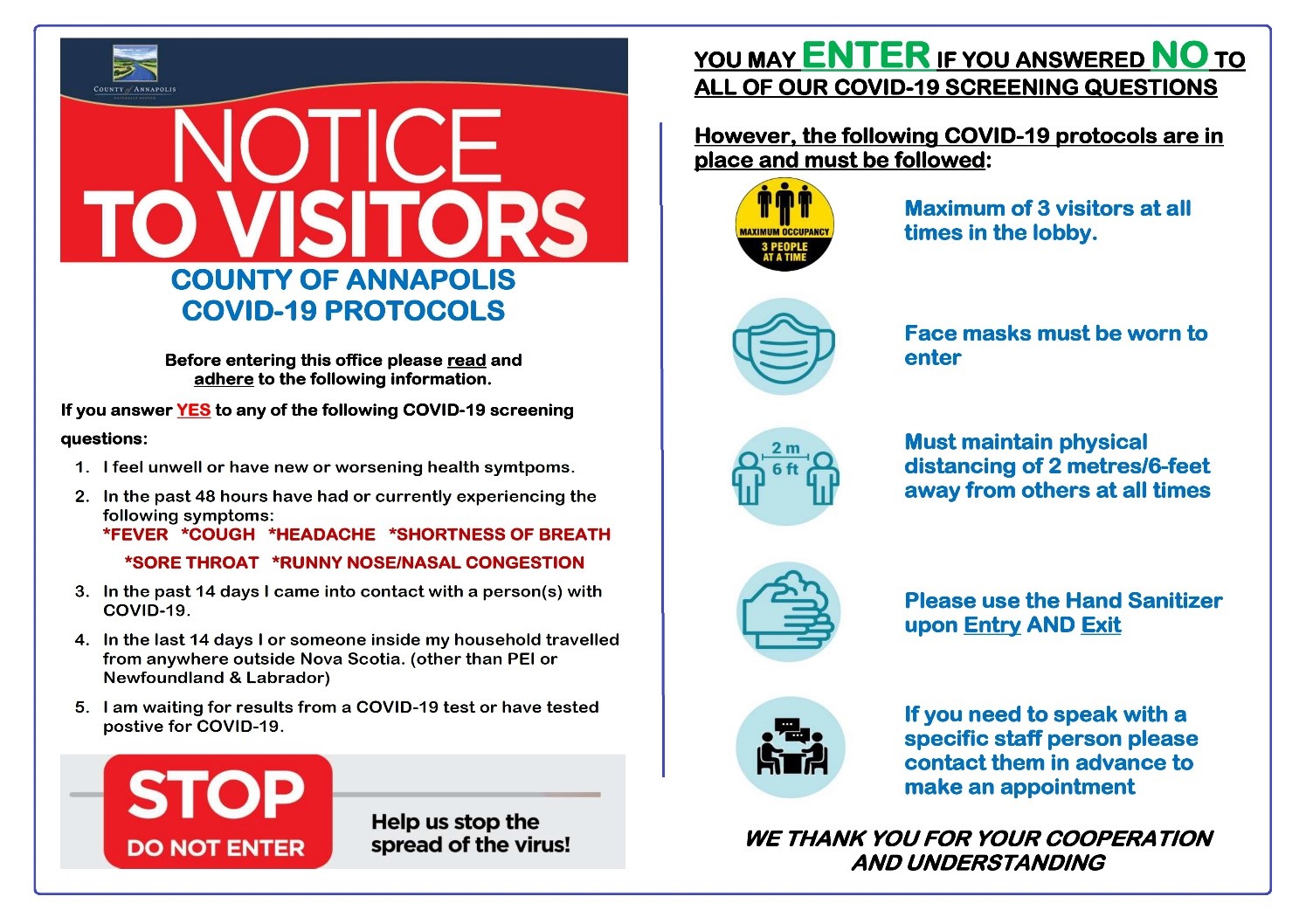 New Posts To This Site
Information on this Website is provided as a public service by the Municipality of the County of Annapolis. Although we make every effort to ensure that all information is accurate and complete, we cannot guarantee that all information is current or accurate. Users should verify the information before acting on it.
The use of this Web site is subject to the following terms and conditions and constitutes the user's agreement to those terms and conditions. Information on this web site is provided by the municipality solely for the user's information and it is provided without warranty, guarantee, or responsibility of any kind, either expressed or implied. The Municipality of the County of Annapolis and its employees will not be liable for any loss or damages of any nature, direct or indirect, arising from use of the information provided on this Website or information provided at any other site that can be accessed from this site.
Links from this site to other sites are presented as a convenience to users. The Municipality of the County of Annapolis does not accept any responsibility for the content, accuracy, reliability, or currency found on external sites.