Thanks for your patience during these challenging times as we work through the pandemic

We plan to have Raven Haven Beachside Family Park open from mid-June to Labour Day weekend (2021) as a day-use park this summer.

Stay tuned for updates.


There will be no overnight camping, including tents, trailers and cottages.

The beach, picnic areas and the washhouse are available but there will be no canteen service or boat rental.

For cottages around the lake who wish to launch their boats for the season please send a request to ravenhaven@annapoliscounty.ca to set up an appointment.

Water is available at the washhouse and at the outside tap. The system has been tested. Our lake is also tested throughout the summer months.

The Mobi mat is in place for people needing assistance to the water and it provides some stability for people with mobility issues or who may be in wheelchairs.

The Mobi chair (floating wheelchair) will be available by reservations only. It will be cleaned before and after each use. Please call (902) 532-7320.

The boat launch is available for small craft launching between the hours of 10:00 am - 5:30 pm (during operating hours) as all craft must be loaded and off site by 6:00 pm. Our parking lot will be locked outside of these hours.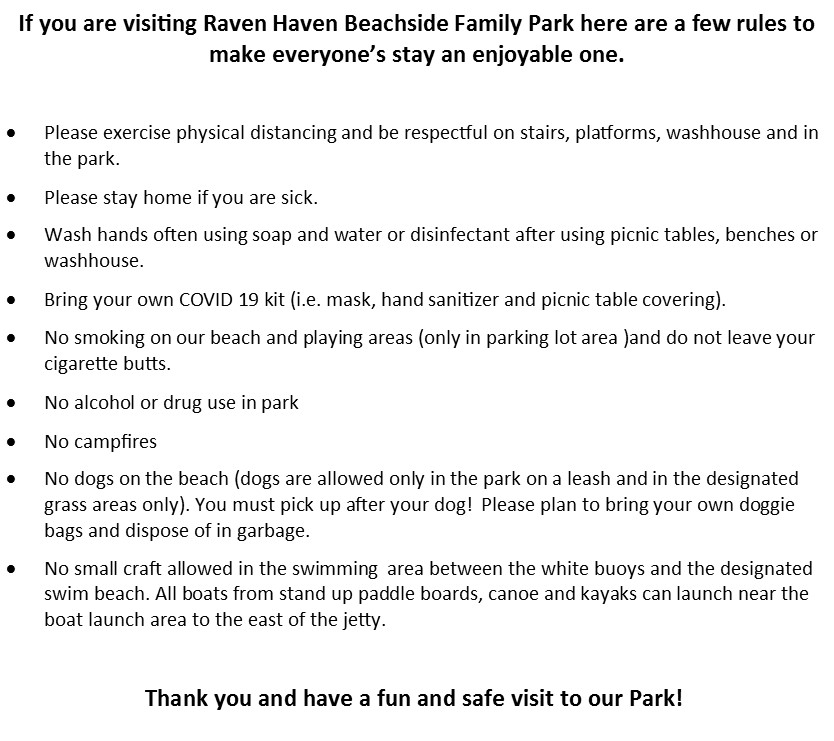 And, don't forget to cover your mouth when you cough or sneeze!
| | | | |
| --- | --- | --- | --- |
| FUN is found HERE! | Facilities to RAVE ABOUT! | | |
For more information please
email: ravenhaven@annapoliscounty.ca
or
call: 902-532-7320