Staying Informed - click a tab to view more details
2018 Winter Snowshoeing Hiking Series
The County of Annapolis is hosting a series of free, entry-level guided hikes to help everyone enjoy some of the beautiful scenery Annapolis County has to offer! Join us in exploring Annapolis County in all its winter beauty!
Saturday, February 3rd, 6:00 pm - Postponed to Friday, March 2nd, 7pm (Due to icy conditions)
French Basin Trail (1.2 kms) - Rated Easy
(112 Prince Albert St., Annapolis Royal)
Join us as we partner with the Town of Annapolis Royal to offer this Moonlight Snowshoe Hike through the beautiful winter landscape.
Saturday, February 10th, 1:00 pm
Cornwallis Interpretative Trail (1.5 kms) - Rated Moderate
(Parking lot at top of Broadway Ave., Cornwallis Park)
Discover the wooded wonderland behind Cornwallis Park while enjoying this interpretative trail.
Saturday, February 17th, 1:00 pm
Mersey River Chalets (approx. 2 kms) - Rated Easy
(315 Mersey River Chalets Rd., Maitland Bridge)
A huge thank you to Mersey River Chalets for inviting us to explore their breath-taking winter wonderland. Come enjoy this quiet and solitary setting.
Click
HERE
to register now!
If you have any questions, please contact
Nadine
.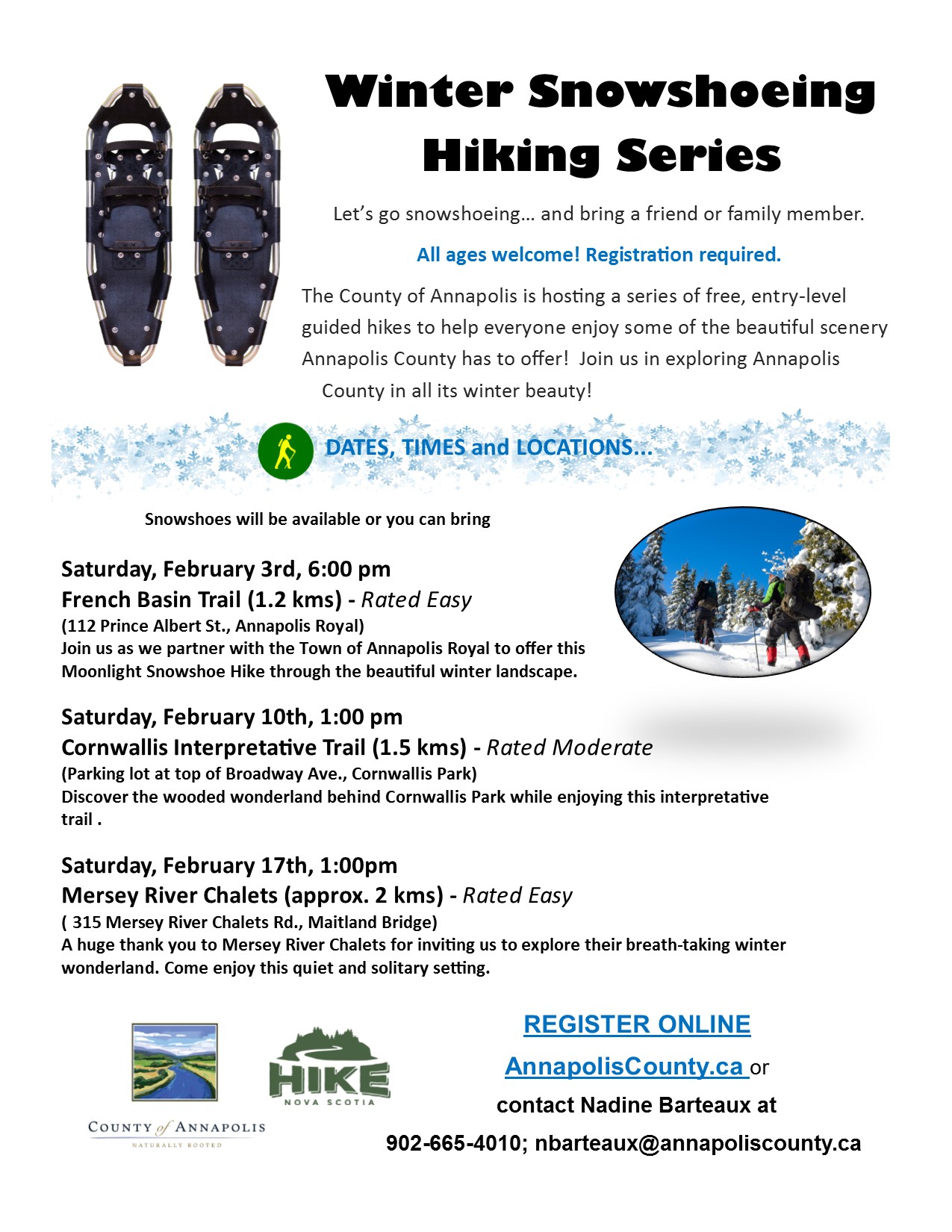 ---
The County of Annapolis is proud to say we have a safe place to hold cats and dogs that have been found at large from within the County or the two Towns (Annapolis Royal and Middleton).
The County has several arrangements with animal rescue agencies like CAPS (Companion Animal Protection Society), SHAID (Sheltering Helpless Animals In Distress - South Shore, Nova Scotia), Misfit Manor (Sheltering all dogs, with a focus on special needs dogs), SPCA (Society for the Prevention of Cruelty to Animals) to transfer cats and dogs that have been held in our facility for over 72 hours.
Animal Control Officers are available between 8:30 a.m. and 4:30 p.m. Monday to Friday except holidays. Emergency after-hours services for fierce and dangerous or injured animals is available between 4:30 p.m. and 8:30 a.m. by calling the 902-584-3693 and calls will be checked periodically. Messages may be left outside of regular hours regarding non-emergency matters which will be responded to during regular working hours.
Bylaw Enforcement / Animal Control Officers are not available evenings or weekends but if the situation is an emergency (a serious situation or occurrence that happens unexpectedly and demands immediate action), please call RCMP and your information will be forwarded to a Bylaw Enforcement / Animal Control Officer.

Cruelty concerns/complaints such as abandonment, neglect or abuse must be reported to the Provincial SPCA Office at 902-835-4798 or toll-free 1-888-703-7722 or animals@spcans.ca

If you are missing your dog or cat, our staff will help you get the word out by posting it on our website: AnnapolisCounty.ca and Facebook.
We need your help to keep your animals safe by ensuring that you do not allow your animal to run at large.
Here is what we have in the pound today:
---
---
---
---
---
---
---
---
---
---
---
---
---
---
---
---
---