PUBLIC GATHER TO CELEBRATE $1.8 MILLION QUEEN STREET MAKEOVER
ANNAPOLIS COUNTY, DECEMBER 2, 2022 – Public and delegates gathered in the community of
Bridgetown for a ribbon-cutting event to celebrate an early Christmas present; a $1.8 million
Queen Street makeover.
The renovation project, which received federal, provincial and municipal funding, commenced in the
spring and was carried out between the intersection of Queen Street/Granville Street and
Queen Street/Centennial Drive at a length of 172 meters. The funding breakdown:
Federal (Canada Community-Building Fund (CCBF) - $200,000
Provincial Letter of Intent (Bridgetown Dissolution) - $671,079
County of Annapolis (Municipal Reserves) - $1,011,812
"Safe and reliable roadways are essential to keep residents moving around our community. The upgrades we celebrate today will help Bridgetown continue to be a safe and inclusive place to live, work and do business," said Kody Blois, Member of Parliament for Kings—Hants, on behalf of the Honourable Dominic LeBlanc, Minister of Intergovernmental Affairs, Infrastructure and Communities. "By investing in infrastructure, the Government of Canada is growing our country's economy, increasing the resiliency of our communities, and improving the lives of Canadians."
"Cities and towns know best what their communities need, where the gaps are and how best to resolve them. Investments from the Canada Community Building Fund allow municipalities to invest in public infrastructure that addresses local priorities." -The Honourable John Lohr, Minister of Municipal Affairs and Housing
"This project truly demonstrates how community success can be achieved when all levels of government work together," said Annapolis County Warden Alex Morrison. "This partnership, along with all the support of local stakeholders, has provided the Bridgetown community a street that offers enhanced function, accessibility and a beautiful appearance. It is a wonderful depiction of the County's future endeavours to create more inclusive communities. Everyone is to be congratulated for this tremendous accomplishment."
The project entailed:
Replaced and upgraded the water system
Improved fire protection through fire hydrants along Queen St.
Replaced the old combined sewage collection system with a separate sewage and storm water system to improve the wastewater treatment plant operation
Removed an unexpected source of contamination from the street (old fuel tank) and remediated area
Replaced sidewalks to meet accessibility standards
Added six additional street lights to improve visibility and safety
Installed advertising banner brackets for community usage and promotion of community events
The ribbon-cutting ceremony took place on December 2nd as part of Bridgetown Chamber of
Commerce's holiday kick-off.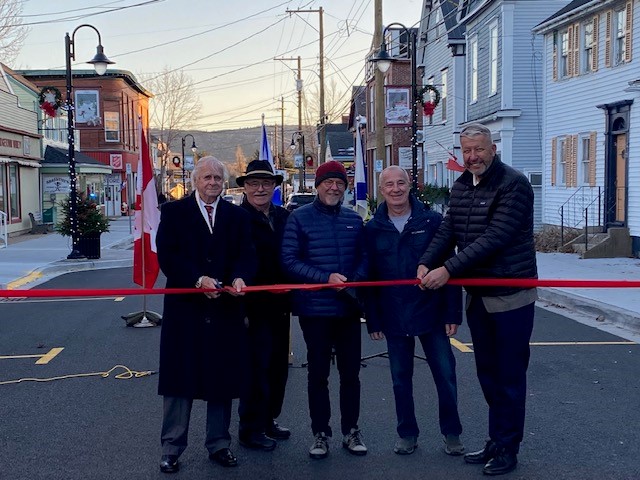 From left: Warden Alex Morrison, Councillor Bruce Prout, former Warden Alan Parish, Councillor David Hudson, and Minister John Lohr