Environment investigators descend on Annapolis County office
Solicitor, CAO surmise actions a fishing expedition for evidence to support delayed court case
ANNAPOLIS ROYAL, NS - Two Nova Scotia Department of Environment officers served an investigative warrant to staff at the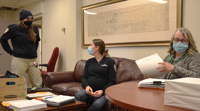 Municipality of the County of Annapolis employee Wanda Atwell, right, helps Department of Environment investigators Kaitlin Henley and Stephanie Barkhouse find and copy documents at the municipal office in Annapolis Royal Dec. 10. Barkhouse served an investigative warrant on the county that focused on documents related to the waste transfer station in West Paradise. LAWRENCE POWELLmunicipal building Dec. 10, seeking documents to prove the Municipality of the County of Annapolis is or will be committing offences against the provincial Environment Act and the Activities Designation Regulations.
County CAO John Ferguson said there is nothing incriminating to find, but he and municipal staff spent the day helping investigators find and copy documents related specifically to the waste transfer station in West Paradise.
Municipal solicitor Bruce Gillis surmised the warrant was part of a fishing expedition related to an ongoing court case against the county by the department in relation to the transfer facility.
"I would say it is. I'm only surmising," Gillis said. "We were in Provincial Court on Monday (Dec. 7) for what was supposed to be a pre-trial conference to sort of organize when the matter goes to trial, what's going to be there and what isn't, okay, and how it's going to go about. The Crown, the Attorney General's lawyer, requested that that conference be adjourned. It's set over until February and I'm surmising the reason they're doing that is that they weren't satisfied they had enough evidence to proceed, so they got this warrant out. That's my best guess."
While Gillis said in matters that are criminal or quasi-criminal offences, it's not uncommon for warrants to be served to try to get information in order to support the charges.
Asked about the timing of the warrant and the delay in the case, Gillis was perplexed.
"The whole thing sounds odd to me," he said. "If they were going to do that they should have done that way back last spring. I can't say what their plan is because I haven't spoken to them and they haven't told me. But it is a very unusual and strange circumstance."
THE WARRANT
The investigative warrant, signed by justice of the peace Anne Jackman in Dartmouth, was valid for one date only from December 10 to 17 between 8 a.m. and 5 p.m. It gave power to Department of Environment officers Stephanie Barkhouse and Kaitlin Henley to search for and copy drawings, specifications, licences, documents, records, or reports related to the municipality's dealings with companies -- including engineering, contracting, disposal, and environmental companies -- in connection with the waste transfer facility in West Paradise.
In the warrant Barkhouse is described as a special constable and peace officer who believes there are reasonable grounds for believing that offences are being committed or will be committed related to Section 50(2), Section 50(1), Section 55(1), and Section 158(b) of the provincial environment act. Also, Barkhouse believes there are reasonable grounds the county is breaching, or will be breaching Section 3(1) of the Activities Designation Regulations, namely failing to obtain an approval for designated activity.
GREAT FURY
CAO Ferguson said the county was cooperating with Barkhouse and Henley, who spent most of the day at the county office, but told Barkhouse he was doing so under protest.
"The Department of Environment charged Annapolis County with great fury," he said in reference to the eight charges laid earlier this year. "And the court hearing is put off again and again. Now, as of Monday, the Attorney General has stopped the court hearing until February. I'm not sure why it's taking them so long to find evidence."
He said it appears the department is trying to get evidence they don't have. He said he can only surmise, like Gillis, that it's a fishing expedition.
The West Paradise Transfer Station site had two approvals, one of them for almost a year, before the Department of Environment stepped in and laid charges.
Ferguson said none of the charges had to do with pollution or contamination.
"One of the charges was for not obeying a ministerial order," he said, "but we never received the ministerial order until days after we were charged for not obeying it."
Asked if he believed the recent actions by the two provincial departments were political, Ferguson said: "I don't know how to answer that."
The two investigators declined to be interviewed.
-30-
Media Release from Lawrence Powell, Media/Information Officer
Municipality of the County of Annapolis
902-955-0704