Six new councillors elected; warden, deputy both lose seats in Annapolis County municipal vote
Forty-seven per cent turnout in first electronic balloting
ANNAPOLIS ROYAL, NS – Annapolis County voters elected six new councillors in municipal elections Oct. 17 with Warden Timothy Habinski losing his District 7 seat to David Hudson.
Voter turnout was 47 per cent with the municipality using electronic balloting for the first time. That's up from a municipal election high of 38 per cent in Annapolis County. The 2016 municipal turnout was just 32 per cent.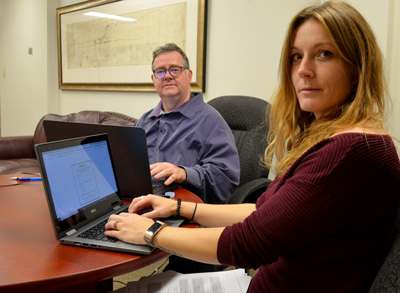 Annapolis County Returning Officer Doug Patterson and assistant Returning Officer Amanda Lewis study results from the electronic voting in municipal elections. The two were in charge of the first-ever electronic balloting in the county. Forty-seven per cent of eligible voters cast their ballots, up from a high of 38 per cent. LAWRENCE POWELL PHOTOReturning Officer Doug Patterson said he was happy with the high voter turnout.
"We really appreciated the poll worker teams. It was alot for them to learn the new voting systems. They worked so hard and did an amazing job helping the public during the in-person voting today," he said.
"It was nice to see in general the public seemed to embrace the ease of electronic voting and that bodes well for the future," said assistant Returning Officer Amanda Lewis.
Deputy Warden Martha Roberts also lost her District 10 seat by just 10 votes to newcomer Brad Redden.
Other new councillors are Brian Connell defeating John MacDonald in District 2; Alan Parish defeating Wayne Fowler in District 3, Clyde Barteaux defeating Burt McNeil in District 4, and Lynn Longmire in District 5 where incumbent Gregory Heming did not re-offer.
Returning councillors were Bruce Prout in District 1, Alex Morrison in District 6, and Diane LeBlanc in District 11. Also returning are Michael Gunn in District 8 and Wendy Sheridan in District 9 who were both acclaimed.


RESULTS
| | |
| --- | --- |
| District 1 | |
| Bob Mann | 30 |
| Karie-Ann Parson-Saltzman | 205 |
| Bruce Prout | 283 |
| Spoiled | 1 |
| Declined | 7 |
| Total | 526 |
| | |
| District 2 | |
| Brian Connell | 279 |
| Edson Hankinson | 171 |
| John A MacDonald | 146 |
| Spoiled | 2 |
| Declined | 2 |
| Total | 600 |
| | |
| District 3 | |
| Wayne Fowler | 165 |
| Jim Mann | 130 |
| Alan Parish | 562 |
| Spoiled | 2 |
| Declined | 3 |
| Total | 862 |
| | |
| District 4 | |
| Clyde Barteaux | 328 |
| Terry Hamilton | 246 |
| Burt McNeil | 257 |
| Jeff Nicholson | 35 |
| Spoiled | 2 |
| Declined | 3 |
| Total | 871 |
| | |
| District 5 | |
| Ian Curry | 161 |
| Kimberly Gregory | 163 |
| Lynn Longmire | 173 |
| Spoiled | 4 |
| Declined | 1 |
| Total | 502 |
| | |
| | |
| District 6 | |
| James Inglis | 111 |
| Ron Matsusaki | 104 |
| Alex Morrison | 299 |
| Spoiled | 1 |
| Declined | 1 |
| Total | 516 |
| | |
| District 7 | |
| Timothy Habinski | 107 |
| Russell Hannam | 62 |
| David Hudson | 328 |
| Susan Robinson-Burnie | 225 |
| Mike Taylor | 108 |
| Spoiled | 4 |
| Declined | 6 |
| Total | 840 |
| | |
| District 10 | |
| Brad Redden | 293 |
| Martha Roberts | 283 |
| Spoiled | 6 |
| Total | 582 |
| | |
| District 11 | |
| Agatha Bourassa | 81 |
| Diane LeBlanc | 347 |
| Spoiled | 1 |
| Total | 429 |