A Good Day for Bridgetown
Premier and warden declare world-class athletics facility open
By Lawrence Powell,
For Annapolis County

BRIDGETOWN, NS -- The past and the future met briefly Sept. 4 when local residents donned their running shoes and headed to the new sport hub, a world-class facility complete with an eight-lane synthetic surface running track.
It was opening day for the $3.9-million complex that heralds a new era of athletics in the region, building on a legacy of track and field that at one time launched local athletes to national acclaim.
And the community paid tribute to Bill Hirtle, the man who started it all.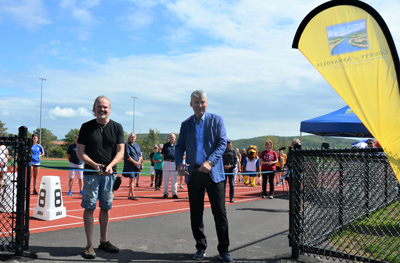 Annapolis County Warden Timothy Habinski and Premier Stephen McNeil cut the ribbon to open the Bridgetown Regional Outdoor Sport Hub Park Sept. 4. LAWRENCE POWELL PHOTOPremier Stephen McNeil and Annapolis County Warden Timothy Habinski cut a Nova Scotia tartan ribbon to officially open the sport hub, and when they spoke, it was about the legacy of the past and the potential of the future.
The official name of the complex at 30 Faye Road is Bridgetown Regional Outdoor Sport Hub Park. It was developed by a committee of local citizens and funded two-thirds by the province with the rest of the money coming from the federal government. Annapolis County will own the property and manage and maintain the facility. It's where the old Bridgetown Regional High School was located and adjacent to the new Bridgetown Regional Community School.
Besides the state-of-the-art track, the sport hub boasts a synthetic surface soccer field, a natural turf soccer field, tennis courts, jumping runways for triple and long jump, a steeplechase water jump, and an active transportation pathway that links Faye Road to the new school.

BUILDING ON THE LEGACY
"When I come to this site, I'm not going to lie to you, I reminisce about a building that used to be right over there," said McNeil in reference to the old Bridgetown Regional High School that was demolished to make way for the new sport hub. He described the school as the foundation of many lives.
"That school was an important part of the legacy of this town, and when we had to replace it, I want to tell you, it became very important to me that whatever was going to be here, it had to build on that legacy of great academics, frankly, but great athletics. I always said the administration of the high school recognized the gymnasium was a classroom and it was a place for lessons to be learned and lessons to be taught. And I can tell you, my mother, if she was alive today, would tell you I spent too much time in that classroom and not enough in some of the other ones."

CEREMONIAL FIRST LAP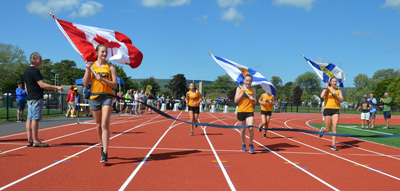 Track athletes complete a ceremonial lap at the opening of the Bridgetown Regional Outdoor Sport Hub Park Sept. 4. LAWRENCE POWELL PHOTOAnnapolis County Recreation Manager Debra Ryan, an integral part of the sport hub design process along with the Bridgetown Regional Sport Hub Advisory committee, hosted the opening event, and members of Annapolis County Athletics took a ceremonial first lap around the track carrying the Canadian, Nova Scotian, and Annapolis County flags.
"On this occasion, in the year of CoVID 2020, we are celebrating the success of a vision to offer something unique, something special, to the youth and all generations, and to the citizens of our county," said Ryan. "It's a world-class sport and recreational complex. We are adapting to a new normal but it's time to get this park open."
She said such facilities are possible with vision, cooperation, and financing.
"So today a new sports legacy begins," she said.
"I just want to tell you, I'm in awe of what's happened here," said McNeil. "Many of you have put in, as Deb said, so many hours of making sure that the detail to this site was being looked after, that we continued to respond if there was an issue we could adjust."

PAST & FUTURE
McNeil said the sport hub is a great testament to the past but also an opportunity for the future.
"This is a piece of infrastructure that not only will provide all of these young people (and I want to say I'm thrilled to see so many young people here -- thanks you for being out and being part of this), it also provides a tremendous economic opportunity."
He described it as a world class facility.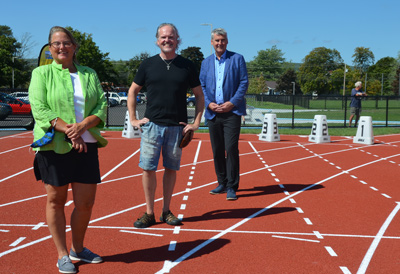 Annapolis County Recreation Manager Debra Ryan, Annapolis County Warden Timothy Habinski, and Premier Stephen McNeil in their lanes at the new Sport Hub. LAWRENCE POWELL PHOTO"You will have a hard time finding one better than this in Atlantic Canada, let alone in our own province, and I want to tell you, Deb and the county, you are now going to be given a piece of infrastructure that will really drive economics," he said. "And quite frankly, those of us who may want to sell a house some day, help us sell that house too. It really is something special."
The Premier said former teachers and coaches were much more than that -- they believed in young people and were role models to look up to.

BILL HIRTLE
"Someone who's not here, Mr. Hirtle. I've told this to him personally, I admire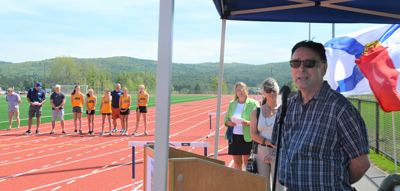 Dean Hirtle talks about his father Bill Hirtle, the man who started a sports legacy in the Bridgetown area about 70 years ago. LAWRENCE POWELL PHOTOhim so much. He really has been one of those people that this community should be so proud of. He had a long, distinguished career here as an educator, as a track coach training young people. As a matter of fact, a former teacher who now works in the government started listing off a whole bunch of young people who Mr. Hirtle would have coached in track, and he listed off not only their successes, quite frankly in sport, but what they did later in life -- and went on to go and teach in other places or became coaches or volley ball refs."
McNeil said that's a tremendous tribute to Hirtle, but the thing that he admires most about him is that fact when he retired he continued to build this community.
"His fingerprints are not just in this facility here or in this school, they're on all the major assets we have in this town, whether it was through the Lions Club, whether it was with the Legion, whatever service needed to be done," he said, "Mr. Hirtle didn't retire, he just changed over and started fighting on behalf of this community."
EMOTIONAL TRIBUTE
In an emotional tribute, McNeil spoke directly to his friend:
"Bill, I hope you're watching, or you'll get a chance to see this, I want to tell you, I love you very much. I'm really proud to call you a friend, be associated with you, and I look forward to seeing you soon," he said. "I'm glad both Dean and Marcia are here to represent you and Margarete. Let me tell you, we are all very, very proud to call you a friend and be in the same town with you. And I want to say on behalf of the Province of Nova Scotia it is my great pleasure to present a certificate in recognition of over 30 years of outstanding leadership as an educator and track coach and being instrumental in putting the community on the path to great sport history and putting this community on a path to great success. Thank you for your continued dedication and commitment to the people of Nova Scotia. I am very proud to be able to say that as your Premier."
McNeil said he was honoured to be there as the facility was opened.
"It's a great tribute to this town. It's a great tribute to the young people here. It's a great tribute to our past. And it's also a great tribute to you, sir," he said.

A GOOD DAY
"What a day," said Habinski. "This is a good day."
"I remember when we first heard the glimmering of the story of this facility being built and when it began to dawn on council what a game changer this could be for the community of Bridgetown," he said. "To stand here today and see the completed project, to envision what's going to be taking place here over the course of the next years and the impact that's going to have upon the active living for our young people, for the educational opportunities in conjunction with the school, on tourism, the economic activity for the community -- it's difficult to hold it all in your head at the same time."
He said good things don't come from nowhere.
"They don't happen on their own. A project of this sort, that has the potential to change so many lives for the better, only happens as a result of enormous, enormous amounts of energy, resources, time and creativity devoted by a lot of people to making it successful," he said.
TESTIMONY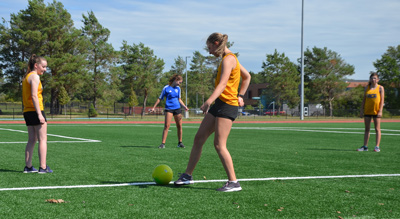 A synthetic surface soccer field at the Bridgetown Regional Outdoor Sport Hub Park attracted some players on opening day, Sept. 4. LAWRENCE POWELL PHOTO"This project is a testimony to what can happen when you have cooperation and collaboration between not only three levels of government -- and I certainly want to express our deep appreciation to the Province of Nova Scotia and the federal government as well for their involvement and guidance in the course of the development of the project -- but even more than the three levels of government what's so critical about how this came to pass is that it was driven by the community itself. And we have community athletic groups, we have the school that's had involvement."
He said the municipality watched as the committee pushed towards this.
"What you're looking at is not a facility. What you're looking at is the cumulative effort of 100s and thousands of hours of work from people who believed that it was worthwhile to dedicate that work to lift a community," he said. "Communities do not lift themselves. Communities are lifted by people like you who accomplish things like this. I'm absolutely proud of all of you. Thank you very much for being here. I think there is going to be wonderful things happening at this facility and it's a real privilege to be here for its opening day."

IMPACTED LIVES
Habinski also spoke about Bill Hirtle.
"You all know him. I don't think it's possible to have lived in the town for more than six months and not have encountered him and had been touched by him in some way," the warden said. "Bill Hirtle impacted so many lives as an educator and coach. I've talked before about how a community like this is a small functioning community where people still work, they still get their service in the community, they still have their schools, they attend church here, they are volunteers here and they're interconnected. Bill interconnected himself into everyone's stories." "He has the rarest of gifts for an educator, and that is to be in his presence makes you genuinely want to be a better person and simultaneously makes you believe that you absolutely can. I'm sorry you're not here today, but my whole family loves you."

UNBELIEVABLE
"I spoke to Dad earlier about this event," said Bill Hirtle's son Dean. "Unfortunately he wasn't feeling up to being here, but I asked him what he felt about it and he reminisced a bit about being on the first staff here at the old school about 70 years ago establishing the business education program -- and of course the track. He was like a hawk watching the development of this facility which, again this morning, he described as 'unbelievable.' It is world class and it will serve our community and beyond for quite some time to come. He was very interested."
"I asked him how he felt about being recognized for his efforts through the years, and he was flattered that he would be remembered and that the time he spent on this property, both in the classroom and around the old track, would continue to be remembered as part of the community," said Dean Hirtle. "He was very flattered, very grateful as we all are -- Mom, Marcia, and I -- and want to thank you all very much."

ATHLETICS CLUB
The Annapolis County Athletics organization was integral tonot only making the opening a success, but in the development of the Sport Hub.
"We are honoured and excited to be here today at the official opening," said John Ray Lawrence. He said ACA has been a member of the advisory committee since 2017 and worked closely with all partners, including the provincial government, to see the project come to the region.
"Why I'm here today as a representative of the track and field club -- as has been said earlier -- this complex is so much more than that," he said. "From track club, to soccer fields, and the tennis, and the pickle ball courts, this complex blends well with the existing infrastructure of the Bridgetown Regional Community School to provide physical activity for people of all ages and all levels of mobility."
COOPERATION & VISION
Ryan said the opening showcases that facilities like the Sport Hub are possible with vision, cooperation, and a little bit of money.
"So today a new sports legacy begins," she said. "As we embark on this journey there are so many people involved and I would like to acknowledge the Bridgetown Regional Outdoor Sport Hub Advisory Committee who showed up to all those meetings for the last four years and were engaged and involved in the process, many of whom are here today: Nancy Price, Dick Campbell, Murray Freeman, Ryan Elmore, Steven Campbell, Steven Young, Steve Clayton, Bill Hamilton, Shaun Saunders, Mike Parker, and representing our Principal Darlene Thomas is Mike Stoddart. Ryan also thanked Lawrence, David Hudson and Meg Cuming.