Spraying Halted
Habinski calls for province to make policy decision to ban glyphosate use
By LAWRENCE POWELL
For Annapolis County
EEL WEIR LAKE, NS – Three parcels of clearcut land in Annapolis County, slated for herbicide spraying to kill foliage growth of unwanted trees, have been spared for now.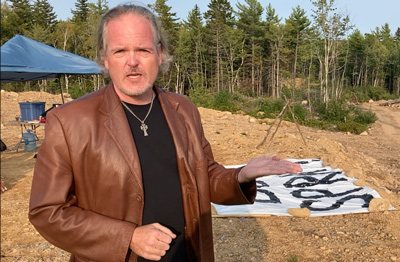 Annapolis County Warden Timothy Habinski Sept. 15 at Eel Weir Lake lands that were slated for aerial spraying of glyphosate.The landowner has since withdrawn an application for spraying on three clearcut parcels of land in Annapolis County. LAWRENCE POWELL PHOTOThe decision by the landowner to withdraw the spray application was lauded by Annapolis County Warden Timothy Habinski who had toured one of the sites Sept. 15 where members of Annapolis County Extinction Rebellion had been camped out for several days.
Nina Newington, with Extinction Rebellion, said in a media release Sept. 17 that the Amherst Office of Nova Scotia Environment confirmed to her that the landowner had withdrawn the spray application.
"There will be no aerial spraying of the Eel Weir Lake and Paradise Lake parcels in Annapolis County this fall," she said.
"This is a win for common sense. The cycle of clearcutting and spraying belongs to a lazy, toxic forestry we can't afford anymore," Newington said. "Citizens and local government, standing up together, can successfully demand change."
The Municipality of the County of Annapolis had written to ministers of two provincial departments asking for a halt to spraying already approved in the county, and a ban on future spraying.
"In the past weeks, councillors have been inundated with emails and telephone calls from residents expressing profound concern over approvals for glyphosate spraying for three properties in District 7 of Annapolis County (PID # 05114269, PID# 05117585, PID# 05309000)," said Warden Timothy Habinski in the Sept. 9 letter to minister of Natural Resources Iain Rankin and Environment Minister Gordon Wilson.
"We're very pleased that the property owner has decided to hold off on the spraying of this piece of property," the warden said Sept. 17 when he was informed the spraying had been stopped. "This was an imminent risk, I think, to the health of our residents and having that risk removed is very important. However, there's an awful lot more that has to be done. As much as we appreciate that decision, that's a decision by a property owner who can very easily reverse that decision whenever they choose to in the future. What we need is a policy level decision from the province."
He said council has asked for something very specific: "Indefinite moratorium on glyphosate spraying for the entire county. That conversation has to be held. We still haven't heard back from either minister. I'm certainly hoping that we will hear back from the ministers. This is what our county residents are concerned about. It isn't just one spraying of one parcel. What we're concerned about is the practice of spraying which currently is permitted under policy regimen of the province. We would like that policy amended so that Annapolis County no longer has to worry about staging protests every time a spray is planned for one particular plot in the county. It shouldn't simply be up to the discretion of the property owners whether or not they're going to engage in a practice that might endanger the neighbourhood. It should be something the province is willing to address directly."
Extinctian Rebellion backed Annapolis County's call for action.
"We want the province to act on our council's request for a moratorium on glyphosate spraying in Annapolis County," Newington said. "We want the provincial government to listen when we say: stop spraying and clearcutting Nova Scotia. You heard it on the North Mountain. Now you're hearing it on the South Mountain."
Newington was dubious about the Nova Scotia Government's commitment to good forestry practices.
"Stop stringing us along with promises of reform," she said. "We've had enough. We need forestry that restores nature, stores carbon, and creates jobs."
Video recorded at Eel Weir Lake Sept. 15