Municipality, province partner for safe streets in Annapolis County
Cost-shared program sees repaving in Granville Ferry, Clementsport, and Bear River
GRANVILLE FERRY, NS – Just a few days after municipal council approved funding for repaving of J-Class roads in Bear River, Clementsport, and Granville Ferry, crews and equipment were on site starting to make it happen.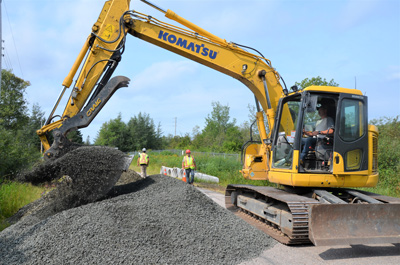 Crews dig up North Street in Granville Ferry Aug. 25 to put in a new concrete culvert. It's just the beginning of prep work for a major $1.57 million repaving project cost shared between Annapolis County and the province. Granville Ferry, Clementsport, and Bear River will benefit. LAWRENCE POWELL PHOTOThe $1.57-million project is cost shared 50-50 with the province and if all goes well should be finished in a few weeks. The municipal cost is $785,000 before HST and will mean 5.1 kilometres of residential streets will be safer for motorists and pedestrians alike.
For one street in Granville Ferry it means improved safety for students at the local elementary school.
"The opportunity the province brought to us this year is one that we haven't had before and we don't know when it will arise again," Timothy Habinski, warden for the Municipality of the County of Annapolis, said. "That is the opportunity to have the province participate with us in the process of repaving previously paved J-Class roads and repairing those roads."
He said the opportunity was too good to pass up.
ROADS DETERIORATED
"We have so many residents who depend upon those roads and their quality has deteriorated significantly, so we did not want the opportunity to escape us," Habinski said. "Initially we were a little concerned about the necessity of funding our portion of the project partly through our operational reserve because we like to keep that reserve fund as healthy as we possibly can."
The county was able to use money from its gas tax fund to allow it to take advantage of the full opportunity.
"North Street is clearly one of the most significant components of this build because of the safety component and the children who have to travel that street on a daily basis during school," Habinski said. "The street's fairly narrow, the shoulders are narrow. Hopefully we're going to see a wider shoulder from this, but just having the quality of the street itself in better repair means that drivers can spend more of their attention on the children they have to keep safe and less on avoiding potholes."
But Habinski said the project is significant for all communities involved, noting there had always been a provision for paving J-Class roads, but not one for what you do when those roads wear out.
"We're very grateful to the province that they've made this opportunity available to us because it matters so much to all the people who live on those roads who have watched them deteriorate," said Habinski, "and they must surely have been wondering what's going to happen -- how much worse can they get before they get addressed. Well, we're addressing them and that's very important to us as a municipality."
PREP WORK
Stephen McInnis, director of Operational Services for the municipality, is parked at one end of North Street in Granville Ferry where an excavator is working on a cross cut for a new concrete culvert.
"Before they pave they're going to ensure that all the drainage works well," he said. "So they'll be checking all the grades on ditches and cross culverts, and they'll be doing all that prep work first before they put any final grade on the road – with maybe a lift of Class A. Then they'll come in and pave at that point."
North Street is the big project in Granville Ferry, but it's not the only one.
"They're also doing all the interior roads in the community. Garden Street, Mills Mountain Road, and anything else classified as J-Class," McInnis said. "Preliminary discussions with TIR indicate that over the next three weeks the project is intended to be completed. But it's also weather-dependent and many other things could affect that. But that's their tentative schedule right now."
ONE-TIME PROGRAM
The project is part of a one-time cost-shared program with the provincial government. Earlier this year the province granted the Department of Transportation and Infrastructure Renewal a $10-million allotment for repaving J-Class roads in municipalities – typically subdivision streets.
"This was additional funding released by the province for this year and is for the repaving of currently paved J-Class roads," McInnis said. "There's two different programs – the paving of gravel J-Class roads and the repaving of paved J-Class roads. So this was additional money released, set up by the province this year. They approached us on a 50-50 cost shared basis which is the usual capital program for all J-Class roads."
"J-Class roads are subdivision roads that are owned by the county but maintained by the province, and through some service exchanges done in the '90s it was agreed that TIR would maintain the roads and we'd pay them on a per-kilometre basis and that when it's time to recapitalize the road it's a 50-50 cost share."
McInnis said this one-time opportunity was a wise thing to take advantage of.
"In terms of 50-cent dollars, those type of programs don't come around very often. In past years the J-Class program has been very limited. My understanding is $2-million provincewide.
THE STREETS
Streets Being Repaved:
North Street, Granville Ferry
Pecks Hill Road, Bear River
Session Street, Bear River
Upper River Road, Bear River
Mills Mountain Road, Granville Ferry
West Clementsport Road, Clementsport
Duke Street, Clementsport
Silver Street, Clementsport
Garden Street, Granville Ferry
Letteney Lane, Granville Ferry
Troop Lane, Granville Ferry