Planning change will make Gordonstoun work in Upper Clements
Public participation part of process leading to international private school construction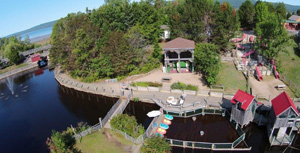 The former theme park at Upper Clements in Annapolis County will be transformed into the first franchise of Gordonstoun Scotland, an international private boarding school. The first phase of the $62-million project is expected to be complete by September 2021 when 200 students will start school. Enrollment will rise to 600 by the end of the fourth year.
By Lawrence Powell
For Annapolis County
ANNAPOLIS ROYAL, NS -- Gordonstoun Nova Scotia, the first franchise of the famed Scottish boarding school attended by British royalty, came a step closer to reality recently when municipal council passed a motion to start the process to amend its own municipal planning strategy and land use bylaw.
The move will re-orient the focus of the former Upper Clements Parks property from commercial recreation to broader combined commercial and institutional uses and amend the land use bylaw to include private and independent schools as a permitted use.
"We always knew that this was going to be necessary. It's fairly common for municipalities, at the outset of a project, to acquire property that they know is going to have to have some sort of a land use amendment involved," said Annapolis County Warden Timothy Habinski after council's regular meeting July 21. "This initiates a statutory process that requires public participation every step of the way through. We don't anticipate it being a particularly problematic process, but it certainly wasn't a surprise to the municipality. It's simply part of how we put the project into motion."
Habinski said despite the excitement of the Gordonstoun project, it's important that council go into public hearings with an open mind and truly listen to what residents have to say.
The Upper Clements Parks Society said that, until approached by Annapolis County, the Society could not finance much-needed upgrades, and were facing the necessity of selling the parks, or going bankrupt.
The popular theme park had been open for 31 seasons.
And on Aug. 5 council approved a contract that will get the development process rolling. It specifically spells out what developer E. A. Farren will do and describes what will be in the lease contract that is currently being developed.
COUNCILLOR MORRISON
"I think that Gordonstoun is one of the most exciting projects in the educational field to happen in the Province of Nova Scotia in recent decades," said Alex Morrison, councillor for District 6 where the $62-million private school will be built. "I believe that, first of all, it will not only provide an economic boon to Annapolis County, it will attract students -- of high quality who are interested in learning in an international environment – to Nova Scotia."
"Annapolis County is a rural area, and when I was president of the Pearson Peacekeeping Centre, I found that a rural area was excellent at integrating people from countries from all around the world, because we have our own positive atmosphere, we have citizens who are interested and who will cooperate with the school to ensure that the students not only learn their academic subjects, but learn about Nova Scotia and what makes us tick," Morrison said.
He said the changes to the municipal planning strategy and land use bylaw are necessary and according to the county's policies.
"It just means that we ensure our policies are in line with the use and the use is in line with our policies," he said.
COVID COMPLICATIONS
Warden Habinski said CoVID -19 puts a spanner in the works when it comes to doing a public hearing or public meetings.
"We have to think very carefully about how and when we'll actually be able to organize the public hearings to let this process move forward," he said. "But we wanted to make sure that at least the motion of council was in place so the moment we had the ability to do so we could make the plans to host those meetings."
Habinski recognizes some of the other limitations a global pandemic places on the project, especially disruption of supply chains and timelines.
"It just slows everything down. It doesn't mean you're not moving," he said.
GAME CHANGER
Like Morrison, Habinski sees the Gordonstoun project is a game changer for Annapolis County.
"We recognized its potential to be one right at the very beginning," he said. "We've been consistent in our approach to this. We're acting within the limits of our authority, but we're determined to bring this school here because of what it means to the community. It means an influx of a significant amount of new revenue into our local economy. It means the creation of new jobs. It means exciting new opportunities for volunteerism. We believe it's going to lift every sector of our community one way or another. It's going to touch thousands of lives for the betterment of Annapolis County. We're excited about that."
SAFE PLACE
While the pandemic may slow some activities, Habinski said Nova Scotia is trending around the world for the very reason that it is a safe place.
"Canada is being recognized around the world, and Nova Scotia and Atlantic Canada are being recognized within Canada, as having some of the most forward thinking responses to CoVID-19 of any area in the western world," said the warden. "Our rates of infection have been low. Our adherence to social distancing has been very, very strict and reliable from the beginning. I think that we're going to see that the CoVID-19 panic will probably improve the business case for Gordonstoun to a certain extent because parents want safe places for their children to be raised in school."
He said Nova Scotia is shining right now as an example of a province that has done things the correct way in order to ensure the safety of everyone from young people to senior citizens. "I think we're a desirable place to live right now," he said. "We're certainly a desirable place for people to send their kids to be schooled."
COMPLEX PROJECT
He described Gordonstoun as a large and complex process and that the project as a large complex project.
"We always realized there was going to be various hurdles and decision points we would have to reach in order to move through," Habinski said. "We're not wavering at all. We haven't from the beginning. We were in the unfortunate position of not being able to speak to it publically for a long time because of a non-disclosure agreement, and what we're able to say now even remains, to a certain extent, limited. But that doesn't mean we're not working. Our staff have been working diligently on this this file. Council has been updated regularly on this file. We're going to move forward with the required processes. This is going to happen for Annapolis County."
The school will be built in four phases with 200 students enrolling the first semester in 2021.
The contract approved Aug. 5 is the initial investment piece that draws the other investment, said County CAO John Ferguson.
"It's important to know that the money the County is investing is being completely recovered in the lease agreement format," he said. "We're advancing money to build a building that we will own on municipal land, but we're going to give indefeasible rights of use to Gordonstoun Nova Scotia, E. A. Farren Limited. There are fees that have to be recovered for that process and that's going to cover the cost of our principal interest payments on the original $7.2 million."
No other County money is being invested in the project, and the $7.2 million advanced by the municipality has to be recovered and payed back when Gordonstoun is in operation.
BACKGROUNDER BULLETS
Gordonstoun Nova Scotia will be the first franchise of Gordonstoun Scotland.
The school will be constructed on the 250-acre site of the former Upper Clements Parks.
The international private school, when fully operational, will bring more than 600 students to Annapolis County annually.
Students will be from Canada (1/3), the United States (1/3), and the rest of the world (1/3).
The school will directly create 100 new jobs and another 150 indirectly.
It is expected local businesses will prosper from Gordonstoun's presence, new businesses will be established, and home sales will increase.
The facilities will be of net zero energy construction.
Economic impact would include wages annually of $6.5 million; operations expenditures (excluding food) of $5.9 million; and administrative expenditures of $594,000.
Will provide approximately $13 million annually in wages under the Gordonstoun pay scales when in full enrollment of 600 students.
Gordonstoun Nova Scotia, announced in December 2018, is expected to open in the autumn of 2021.
In 2019 Gordonstoun announced a long-term, multi-school agreement to open Gordonstoun schools in China.
QUOTE
"From our first meeting, we have been struck by how everyone involved in this exciting project shares our commitment to growing the reach and impact of Gordonstoun's educational values. Edward Farren and other members of the project team have visited Gordonstoun many times and we were also delighted to welcome Stephen McNeil, Premier of Nova Scotia (who was born in Annapolis County), to Gordonstoun." -- Lisa Kerr, Principal of Gordonstoun, Scotland