Annapolis County Approves Multi Million Internet Investment
May 16, 2017
Annapolis County Approves Multi Million Internet Investment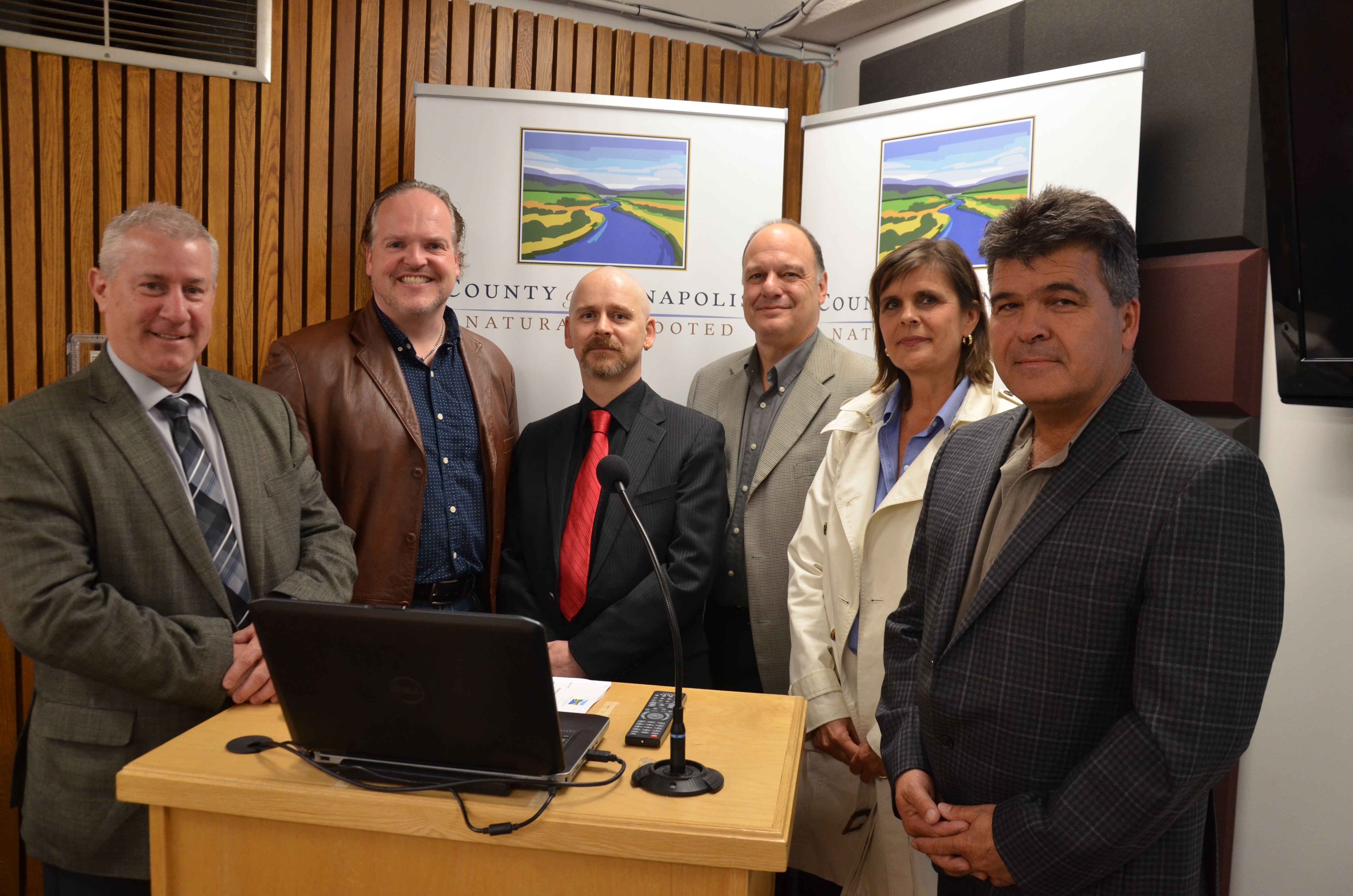 (ANNAPOLIS COUNTY, NS) The Municipality of the County of Annapolis has approved a Capital Investment Plan for internet infrastructure.
On April 28, 2017 the Municipality of the County of Annapolis Council approved a Temporary Borrowing Resolution (TBR) that puts forward a formal request to the Province of Nova Scotia for approval of the County's intent to borrow $13,000,000 to build back bone fibre optic cable in key areas within the County boundaries.
The Annapolis County contribution is part of a funding formula that includes federal, provincial and private sector contributions totaling almost $18,000,000.
"The voice of Annapolis County residents has been very clear on this issue: Internet connectivity is an essential service, and its lack is an impediment to our quality of life and capacity for progress. They asked their Councilors and their Municipality to take decisive action to solve this problem," said Annapolis County Warden Timothy Habinski.
"This is our response."
"Our citizens can expect fibre optic Internet speeds to equal or exceed the highest internet speeds anywhere in Canada, with service to homes in the range of 1 gigabit down and 1 gigabit up," (1 gigabit is equivalent to 1000 megabits). Final financing approval of our borrowing request is under review by the provincial Department of Municipal Affairs and we will know the outcome in the near future. The $13,000,000 dollars borrowed for backbone fibre will be paid back by a separate contract with Mainland Telecom Inc," Habinski added.
The County and Mainland jointly applied to the federal Connect to Innovate fund, meeting the application deadline of April 20, 2017.
Annapolis County Chief Administrative Officer (CAO) John Ferguson said that ongoing work has included the fibre optic cable connection detail, scope-of-work, and cost of building internet service to the greatest extent possible within the County boundaries, and has involved positive discussions with Nova Scotia Power Inc.
"The strategic approach to this project required four components to be in place: developing a returnon-investment business case with Mainland Telecom, accessing Connect to Innovate funding, accessing provincial Department of Business funding, and possibly using federal gas tax funding when necessary and with the permission of our provincial Department of Municipal Affairs," Ferguson explained.
Mainland Telecom Inc. is a valley-based company chosen from a list of companies who responded to an Expression of Interest issued by the County over a year ago.
"Mainland has demonstrated the capability and expertise to design, build and provide fibre optic internet service to our County homes and businesses" Ferguson asserted.
Mainland Telecom Inc. stated in turn that it was eager to move forward with the Municipality of the County of Annapolis in addressing this challenge and opportunity.
"Every home or business on the route will be capable of 10 Gbps from day one, although 1 Gbps will the standard offering. Commercial offerings will also include high capacity wavelength services for any business requiring low latency and high capacity to any of the major international fibre hubs across the globe," said Chris J. Norman, Mainland's Chief Technology Officer. "It is very important to look towards the future as demand for connectivity and capacity is increasing exponentially and we need to design for the long term. Fibre has a lifespan in the region of 40 years. This design will offer an excellent upgrade path," Norman added.
The fibre optic build is planned to begin during this year's construction season and once the project is underway Mainland expects to have four separate crews working within Annapolis County. The fibre optic build is anticipated to take approximately 18 months.
A backbone fibre optic cable is used to transmit very high-speed data, voice, and video through to homes, businesses, community halls, educational and government institutions.
Backbone fibre is key infrastructure which will place our rural community on equal footing with urban centers and which supports the retention and attraction of people seeking access to the world while living in a rural community.
The Municipality will keep residents and businesses up to date as this project progresses, and the County will post a high level map illustrating where the new Internet fibre optic build will occur within the County Boundaries.
The map of the intended build will be posted with this press release on our web page. AnnapolisCounty.ca
North Map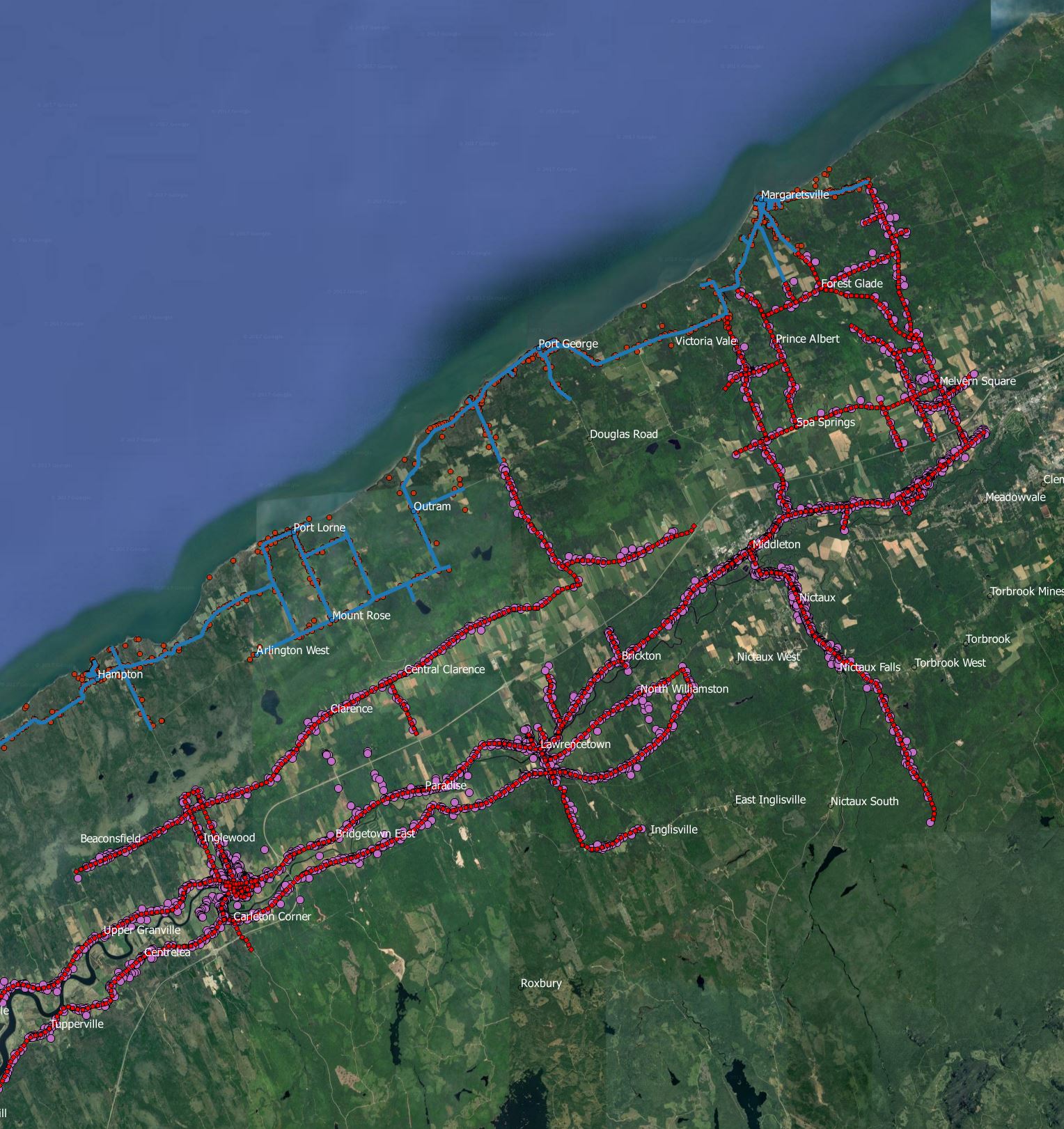 South Map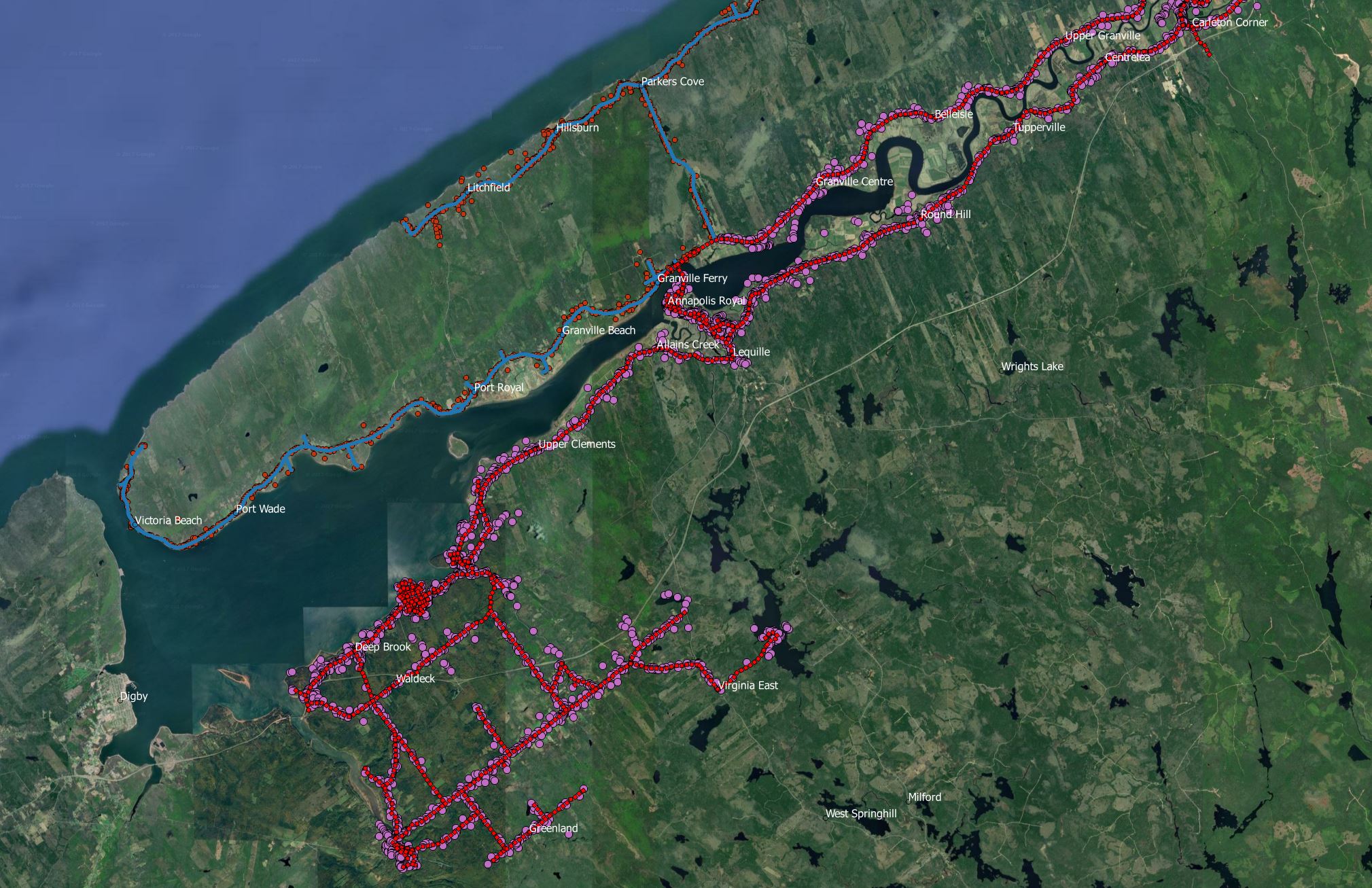 Complete Map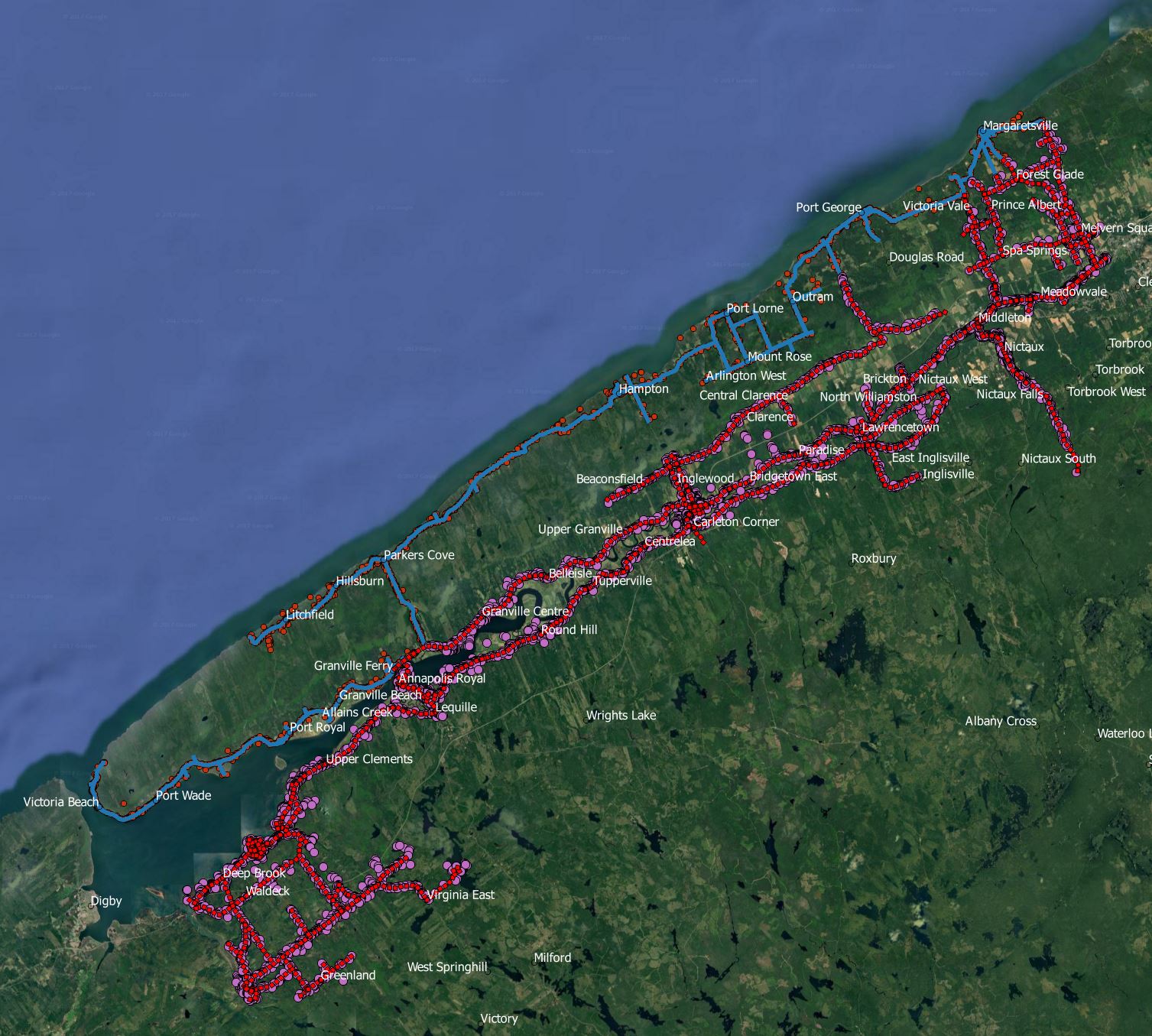 Frequently asked questions regarding future internet service in the County of Annapolis.
1. What do the different colours on the map indicate?
a. The different colours relate to the different funding sources, but they still indicate fibre
optic cable.
2. The map shows where fibre optic cable is to be built, what about other areas of the County?
a. There are further plans to use other technologies to get internet service to areas not
covered by fibre optic cable.
b. The plan involves towers and wireless signals using line of sight and non-line of sight
wavelengths. In some cases an LTE signal may be used.
c. In very remote circumstances a satellite approach may be necessary.
d. We are already in discussions with companies in an effort to reach areas not obtainable
by fibre optic cable.
3. What speeds can be expected from other technologies?
a. The speeds will likely be between 15 and 50 megabits per second. You can easily stream
video and large data at these speeds.
4. What other initiatives are happening at this time?
a. We are constructing a tower in Inglisville that will be beam wireless signals to the Valley
floor eastwardly. This was the result of a provincial grant of $75,000.00.
5. Will there be further information provided?
a. The internet project build and its progress will be communicated on a regular basis via our
web page and various media outlets.
View Announcement
Click Here