Hurricane Season: June 1-November 30: UPDATE - Now calling for an Extremely Active hurricane season!....Read More (Updated 11/16/2020)


Atlantic hurricane season runs from June 1st to November 30th, although the risk of hurricanes in Nova Scotia is highest during the months of September and October. Hurricanes are classified by categories ranging from 1 to 5. Regardless of the category a hurricane can cause extensive damage. Wind is responsible for much of the structural damage, as well as the uprooted trees and the downed power lines. Even a significantly weakened hurricane can carry winds strong enough to cause widespread destruction.
Canadian forecasters were originally forecasting The 2020 Atlantic hurricane season to be above average.

In the past couple of weeks this has been elevated to Extremely Active!In the past couple of weeks this has been elevated to Extremely Active!

NOAA's first outlook is issued in May before the hurricane season starts. This outlook is then updated in the beginning of August ahead of the historical peak of hurricane season.

NOAA's Climate Prediction Center (CPC) is forecasting for an extremely active year. When compared this season outlook to the one that they provided in May, the total number of storms, hurricanes and major hurricanes has increased.

They are now forecasting a range of:
🌀 19 – 25 named storms (winds of 39 mph or higher), Increase +1-6 more
🌀 7 – 11 becoming hurricanes (winds 74 mph or greater), Increase +1-2 more
🌀3 - 6 of them becoming major hurricanes (category 3, 4, 5; with winds of 111 mph or higher) Remains the same.

The 2020 named storms are:
2020 Tropical Storm Season Update (H- Hurricane, MH, Major Hurricane, TS - Tropical Storm)
MAY (2)
🌀 Arthur - TS (May)
🌀 Bertha - TS (May)
JUNE (2)
🌀 Cristobal - TS (June)
🌀 Dolly - TS (June)
JULY (5)
🌀 Edouard - TS (July)
🌀 Fay - TS (July)
🌀 Gonzalo - TS (July)
🌀 Hanna - H (July)
🌀 Isaias - H (July)
AUGUST (4)
🌀 Josephine - TS (August)
🌀 Kyle - TS (August)
🌀 Laura - MH (August)
🌀 Marco - H (August)
SEPTEMBER (10)
🌀 Nana H (Sept.)
🌀 Omar TS (Sept.)
🌀 Paulette H (Sept.)
🌀 Rene TS (Sept.)
🌀 Sally H (Sept.)
🌀 Teddy MH (Sept.)
🌀 Vicky TS (Sept.)
🌀 Wilfred TS (Sept.)
🌀 Alpha - TS (Sept.)
🌀 Beta - TS (Sept.)
OCTOBER (4)
🌀 Gamma - TS (Oct.)
🌀 Delta - MH (Oct.)
🌀 Epilson - MH (Oct.)
🌀
Zeta - H (Oct.)
NOVEMBER (3)

🌀 Eta - MH (Nov.)
🌀 Theta TS (Nov.)
🌀 Iota TS (Nov.)
To check on the status of current Hurricane's please check the Hurricane Tracker:
https://weather.gc.ca/hurricane/track_e.html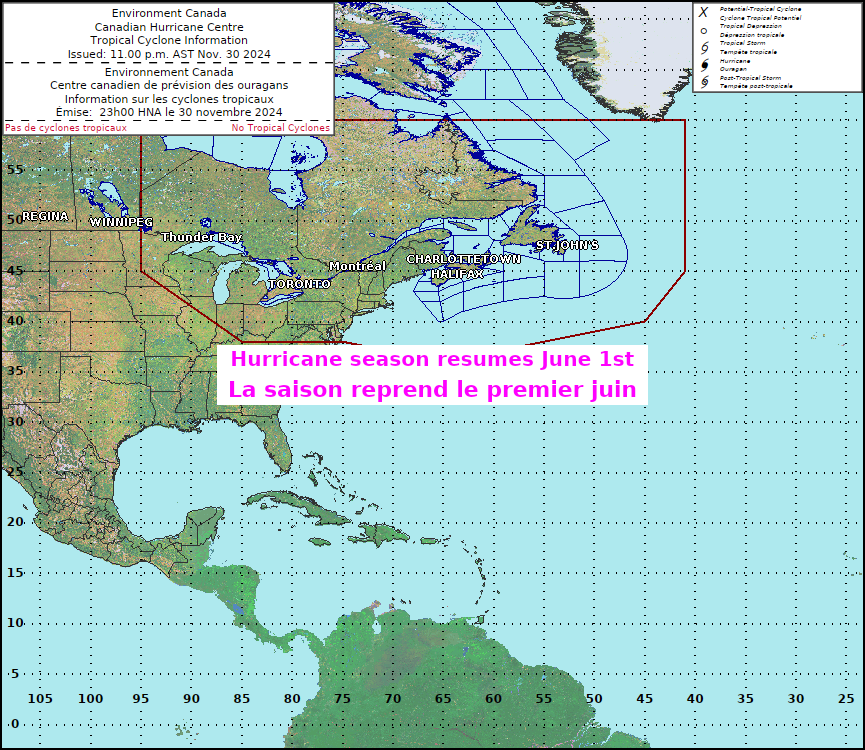 Did you know?
Since 1953, Atlantic tropical storms had been named from lists originated by the National Hurricane Center. They are now maintained and updated through a strict procedure by an international committee of the
World Meteorological Organization
.
If a storm forms in the off-season, it will take the next name in the list based on the current calendar date. For example, if a tropical cyclone formed on December 28th, it would take the name from the previous season's list of names. If a storm formed in February, it would be named from the subsequent season's list of names.
In the event that more than twenty-one named tropical cyclones occur in the Atlantic basin in a season, additional storms will take names from the Greek alphabet.
For more information please visit the Canadian Hurricane Centre:
https://www.ec.gc.ca/ouragans-hurricanes/?wbdisable=true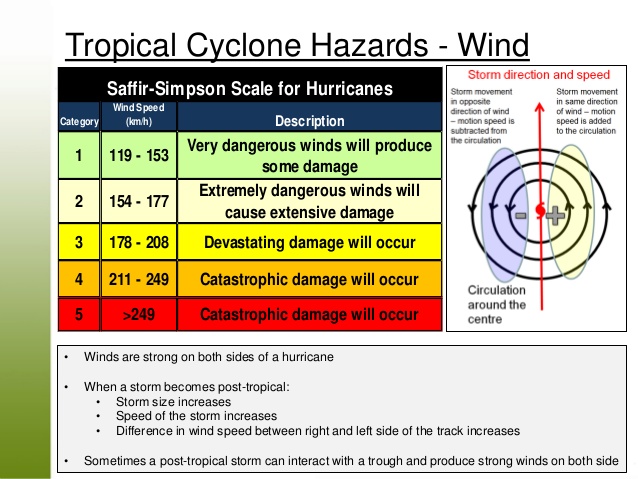 You should be prepared to take care of yourself and your family for a minimum of 72 hours. For more information on 72 Hour preparedness click here
If a Tropical Storm/Hurricane WATCH or Tropical Storm/Hurricane WARNING is Issued:
Fill your bathtub(s) with water for flushing, washing and cleaning
Be sure to tune in to local broadcast networks for updates from authorities
Secure all gates, doors and windows
Move lawn furniture, trash cans, hanging plants or anything that can be picked up by wind
Trim dead or diseased branches from trees to help make them more wind resistant, or remove dead trees entirely. Safety should always be your first priority when trimming trees. Ensure that you are not working near a power line.
Park your vehicles in a garage or away from trees
Fill your car's gas tank
Keep pets indoors
If you own a watercraft be sure it is out of water and up to high ground
Hurricane Watch: If an approaching hurricane is considered a threat to coastal and inland areas, meteorologists issue a hurricane watch. This is meant to alert everyone in the area to be prepared to act if definite hurricane warnings are issued.
Hurricane Warning: A hurricane warning is issued to coastal areas where winds of 118 km. per hour are expected to occur, or if dangerously high waves are expected. The warnings are seldom issued more than 24 hours in advance, sometimes just a few hours before the onset of a hurricane.
When a warning is issued, all recommended precautions must be followed. For more information on hurricanes visit the Canadian Hurricane Centre website.
Learn about Hurricanes: hazards and impacts
When most tropical cyclones arrive in Canada or in Canadian waters they are in some stage of extratropical transition (ET). Even Hurricane Juan (2003), which stayed more tropical than most tropical cyclones when it reached Canada, was still undergoing ET. This is important because the weather and impacts from a transitioning tropical cyclone are different than those from the purely tropical cyclone. The weather is also different from a purely extratropical storm systems that are common in Canada.
Here is what you might expect with "post-tropical" cyclones.