Hurricane Season: June 1-November 30: Experts calling for Above Average 2021 hurricane season!....Read More (Updated 10/05/2021)
2021 Hurricane Season Forecast
Atlantic hurricane season runs from June 1st to November 30th, although the risk of hurricanes in Nova Scotia is highest during the months of September and October. Hurricanes are classified by categories ranging from 1 to 5. Regardless of the category a hurricane can cause extensive damage. Wind is responsible for much of the structural damage, as well as the uprooted trees and the downed power lines. Even a significantly weakened hurricane can carry winds strong enough to cause widespread destruction.
Last year in 2020 the outlook went from average to Extremely Active! It was a record year in 2020 with a record 30 named storms, including 7 major Hurricanes.


In Nova Scotia we had 8 named storms that came through the Canadian Hurricane Centre response zone.



Canadian forecasters are forecasting the 2021 Atlantic hurricane season will be Above Average.

NOAA's first outlook is issued in May before the hurricane season starts. This outlook is then updated in the beginning of August ahead of the historical peak of hurricane season.

NOAA's Climate Prediction Center (CPC) is forecasting for an above normal hurricane season this year with an outlook of:
🌀 13 - 20 named storms (winds of 39 mph or higher), Increase +1-6 more
🌀 6 - 10 becoming hurricanes (winds 74 mph or greater), Increase +1-2 more
🌀 3 - 5 of them becoming major hurricanes (category 3, 4, 5; with winds of 111 mph or higher) Remains the same.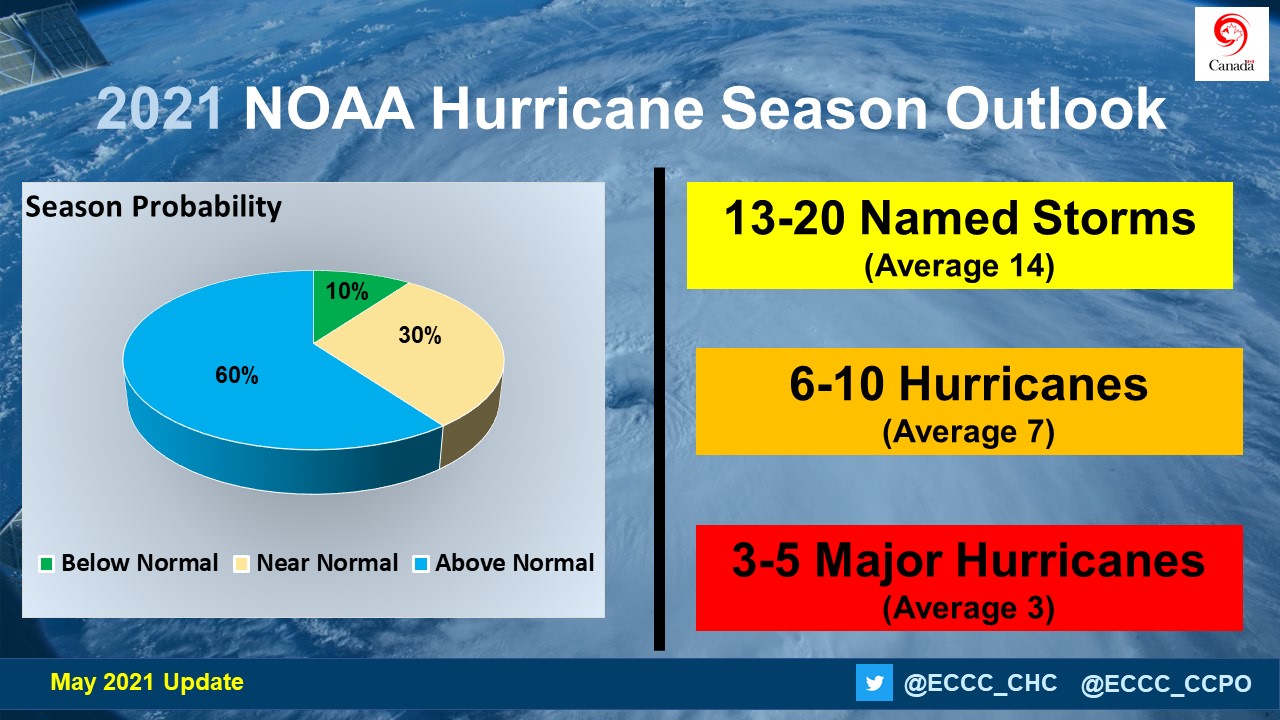 The 2021 named storms are:


The World Meteorological Organization announced the creation of a supplemental name list for storms when the season goes past original 21 name list.