Wildfire Season 2023 (March 15 to October 15)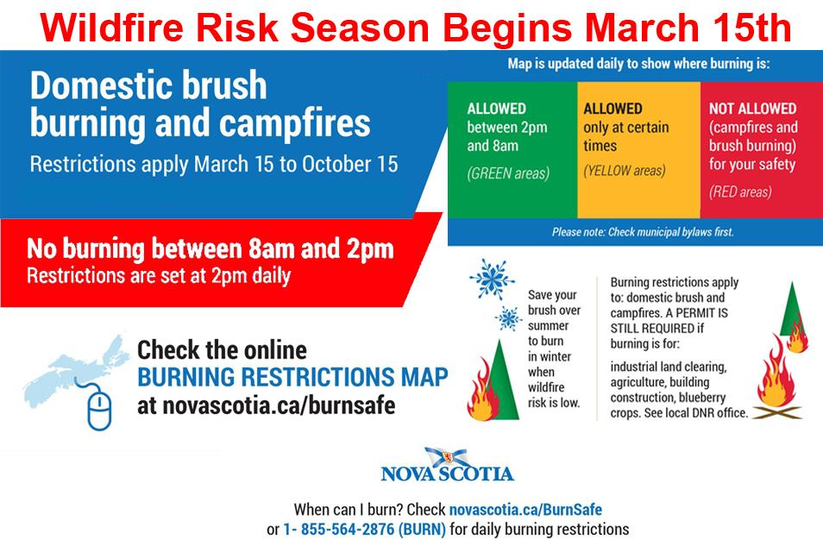 The risk of wildfires is highest during the dry season(March 15 to October 15) when the earth and forests lack moisture. In 2022 there were 152 wildfires in Nova Scotia last year, damaging 3,389 hectares of Crown and privately owned lands.
Although you may not be able to eliminate the risk of wildfire you can take measures to protect your home and property:
In the event of a fire, call 911.
Have a smoke detector installed in every hallway, on every floor, including the basement. Check batteries regularly.
Be extremely careful when using candles. Never leave candles burning unsupervised, or around children or pets. Make sure the candle is secured in a stable candlestick and do not burn down any lower than two inches.
Deposits in the chimney pose a serious fire risk. Have your fireplace swept out and inspected regularly.
Do not pile up debris, garbage or garden supplies against an exit door. This may be an important evacuation route in an emergency.
Store firewood a safe distance from the house and keep covered
Open fires are prohibited in most municipalities. Do not burn leaves, twigs or garden debris – this material should be composted or hauled away.
Store pool maintenance products in a dry, well-ventilated location, outside the home and away from organic materials, gasoline, motor oil and turpentine.

During the wildfire risk season (March 15 to October 15) all domestic brush burning and campfires must adhere to daily Nova Scotia burning restrictions. This page is updated at 2:00 pm daily.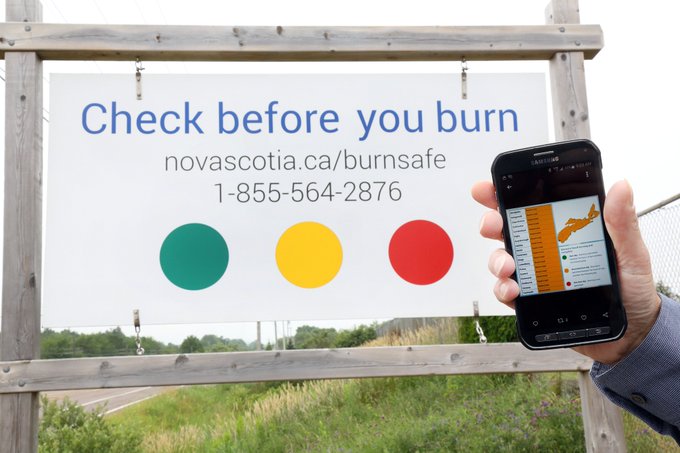 The BurnSafe map will be updated each day at 2 p.m. to show if burning is permitted that day:
if a county is shown in green, burning is permitted from 2 p.m. through 8 a.m.
if it is shown in yellow, burning is permitted between 7 p.m. and 8 a.m.
if it is shown in red, burning is not allowed
the map will appear grey each day between 8 a.m. and 2 p.m. to indicate burning is not permitted
The BurnSafe map shows provincial restrictions, which cover domestic brush burning and campfires. The restrictions do not apply to campfires in licensed private, municipal or provincial campgrounds with proper campfire facilities.
Restrictions are also available by recorded message by calling the toll-free phone line at 1-855-564-2876 (BURN).
Nova Scotians can contact their nearest Lands and Forestry office for more information on burning and burn restrictions. Wildfires can be reported by calling 1-800-565-2224 or 911.

For more information on fire safety visit the Department of Natural Resources website. https://novascotia.ca/burnsafe/

Domestic Brush Burning Frequently Asked Questions