Staying Informed - click a tab to view more details
Raven Haven Cuban Night
Mark you calendars for this event!!! Join us at Raven Haven Beachside Family Park for Cuban Night!

Featuring Frederic Mujica who will be on the beach from 8-10 pm with his upbeat music that will have you shaking maracas and dancing in the sand!

Bring your family and friends for a fun-filled night!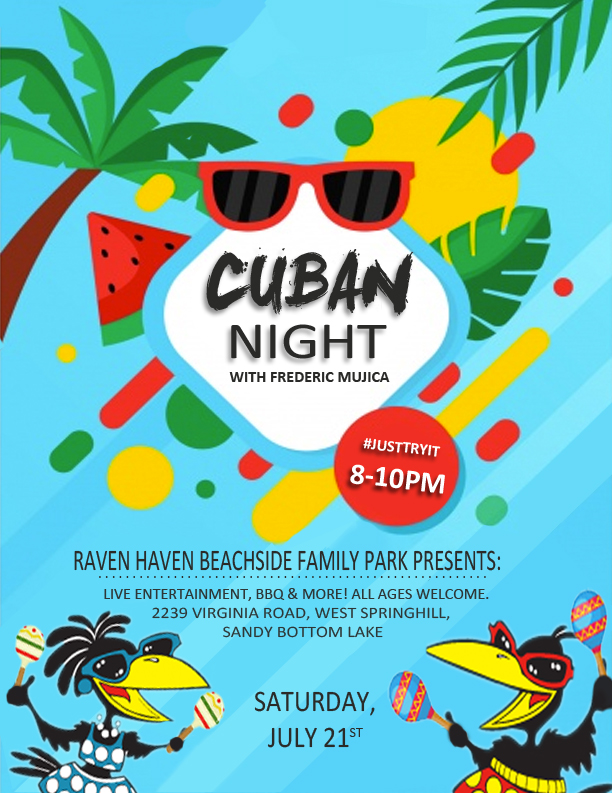 Tips and ideas for all, especially parents, about things that you can do right in your own backyard to get active!
There are so many activities that you can do right in your own backyard.

Keep an activity box in your vehicle with things like a Frisbee, basketball, balls, gloves, etc so that you are ready to be active at any time.


Have an activity jar where family members write down activities to do together, then pick one each night/day
Walk and Talk – be active while doing homework, don't just sit there, get up and go for a walk and practice things like math and spelling
Plan play dates for your babies and toddlers.
Give gifts that promote physical activity
Get Active for EVERY Season!


Spring Activities
· Organize a neighborhood plant exchange, plant and enjoy your new treasures.

· Dust off that old gym equipment in your basement or garage, and use it!

· Animal Dances—play music and let the kids dance like different animals (there can many variations of this activity)

· Give your children some household chores that require physical exertion, keeping in mind their levels of strength, coordination and maturity. Mowing lawns, raking leaves, scrubbing floors and taking out the garbage not only teach responsibility but can be good exercise too

· Play charades, put some music on and get some friends over or play it with the family

· Follow the leader can be a great game to play with kids because it can give you the adult as a leader an opportunity to get the kids to do a variety of active things such as jumping up and down, doing sit ups, etc…

· Marbles—Playing marbles in the sand is a popular game from days gone by. It is fun and easy. Get some glass marbles and learn some rules or make up your own.

· Garages and barns without cars and clutter can become an activity zone on rainy days

· Running or Jogging is another great activity that will keep you in shape. Try a run/walk program –run 2 minutes, walk 2 minutes, etc…

· Go for a family trip to Oaklawn Farm Zoo in Aylesford

· Visit one of the four branches of Annapolis Valley Regional Library. There are a variety of programs offered throughout the year such as computer tutorials, art play, art kids, art scape, after school programs and pre-school programs. They also offer access to books on tape or CD; fitness, yoga, and dance videos and DVDs (for both adults and kids); outdoor activity and sports books; programs for children and adults; and health information databases. The library can support your active lifestyle!

· Whistle making—You can make your own whistle by holding a blade of grass between your thumbs (fingers cupped behind). The grass will pass through the small gap between your thumbs, blow on this part for a screeching

Safety Tips:

· Wear the proper gear for the activity you are planning to participate in, and make sure it fits properly.

· Warm-up and stretch before doing any recreation or physical activity.

· Remember to remove all jewelry before playing, including watches, rings, earrings, necklaces, etc.

· Be sure to drink plenty of liquids before during and after your activity. Water or sports drinks are best.

· Keep safety in mind every time you participate in an activity.

· Know the rules of the sport or activity you are participating in and follow them.

· Don't play through injuries, as you could do further and permanent damage to your body.

*Source: Safe Kids Canada and Health Canada



Summer Activities
Go waterskiing, learn to water ski or teach someone you know about waterskiing
· Support local skate boarders or go out and try it—remember to wear the proper gear I.e. helmet, knew & elbow pads, etc...

· Organize a treasure hunt or scavenger hunt for the neighborhood kids

· Walk or cycle on short trips and family outings

· Supply kids with a variety of sports equipment and let them be creative and make their own activities

· Lawn Badminton– Buy a kit or collect surplus. Don't worry about a fancy net, find some fish-net or just use a rope. Lines in gravel or grass can be created using string & pegs sunk flush with the ground.

· Horseshoes—Set up a permanent or temporary court. You can always repair the lawn afterwards. Shoes too heavy for kids? Find a plastic set or cut our your own custom set from wood.

· Family Hammock—Find some surplus fish net (heavy grade) & secure it from a circle of sturdy trees. Not too high &b use good rope. Now you have a challenging climber & a great place to relax. Remember no jumping and clear the area of any hazards

· Beachcombing—A ton of stuff to discover. Great family exercise. Chose new locations to explore. Note the tides before leaving as high tide can make some areas difficult to pass. Pack a lunch & turn the trip into a picnic as well.

· Rock-hounding—Many unique, tide polished rocks are waiting to be discovered. Take along a rock identification book. Search for that unique peace of glass.

· Dulse-picking—dulse is an edible sea-weed found in some areas at or near low water. It can be slippery adventure but picking, drying and eating some can be a lot of fun.

· Tubing—Do you have a stream or a river nearby? It may provide a good opportunity for tubing. Pick-up and inflate

Safety Tips:

· Always supervise your children around water and playground equipment


When participating in water craft activities remember to wear a PFD or Life Jackets.
· Remember to be sunsmart and wear your sunscreen

· Don't stay out in the hot summer sun for long periods of time, find some shade

· Wear protective clothing, including a wide-brimmed hat, sunscreen and sunglasses

· Check your child clothing to make sure it won't get caught in playground equipment

· Checkout the playground equipment before your children play on them

· Check out Canadian Safety Council for more details on various activity safety issues.





OTHER RESOURCES:


The Canadian Association of Family Resource Programs
FRP Canada promotes the well-being of families by providing national leadership, consultation and resources to those who care for children and support families. www.frp.ca


VALLEY FAMILY FUN
A great resource for families across the Annapolis Valley! Families are sure to find something on this website to keep them active and having fun all year long!
http://www.valleyfamilyfun.ca/




Fall Activities
Split and Stack the fire wood
· Rake the leaves, pile them up, then run through them

· Organize a game of street hockey on your block. You could also play ball hockey in your driveway, remember to be careful of cars and rocks

· Discourage homework immediately after school to let children find some diversion from the structure of the school day. Kids should be active after school and before dinner

· Go for a walk through a museum

· Build an obstacle course inside the house for your children. You can use boxes, chairs, pillows, cushions off chairs and couches, other household things

· Play outside with the dog for 20 minutes

after work.

· Yard Baseball—Have you ruled out hitting a ball due to nearby vehicles & windows? You may be able to have fun using a tennis ball. Adapt your own rules like using only one base so two people can play. Also, using a tennis ball or other softer ball is a great way to learn to catch.

· Croquet—get yourself a croquet set. Set-up family teams and have a fun tournament at your BBQ. Great for all ages but don't forget to mow the lawn first

· Go for a moonlit stroll or canoe ride and gaze at the stars

· Make a plan with your spouse or child to train together to walk or run a 5K race.

· You can organize play groups with other parents in your neighborhood

Safety Tips:

· If you are taking part in recreation activity in wilderness areas remember to wear hunters orange, so you will be seen

· When going out for a walk or bike ride at night along the road be sure to wear reflective clothing

· It is a good idea to have a mini first aid kit with you for most recreation activities


Winter Activities
Build a snowman with your family, a group of friends or by yourself
Go snowboarding at Fort Anne (Annapolis Royal) or at the Old Grist Mill (Lequille)
Walk in the snow and catch a snowflake on your tongue
Build a snow maze
Plan a winter treasure hunt for your children
Make some homemade ice cream
·Throw snowballs at a target
Make snow angels in the snow
Play football in the snow
Make trails in the snow and play tag games
Visit a local park to go snowshoeing or cross country skiing
Go tobogganing or sliding at Fort Anne (Annapolis Royal)
Play soccer in the snow (snoccer)
Shovel the driveway—remember to stretch first
·Build a backyard skating rink
Build a fort or igloo
Get a group of people together and play pond hockey or road hockey
Enroll your children in team sports
Play hopscotch in the snow – use a water bottle filled with water and food coloring to outline a hopscotch board in the snow. Throw a snow ball in a square to start the game.
Play Frisbee or Ultimate Frisbee in the snow
With some friends organize a winter carnival for your community, with a variety of activities
Go out and enjoy community festivals and events that are going on in your area
Jump in the snow
Try camping in the winter
Make a list of things your family can ACTIVELY achieve in the coming year


Safety Tips:

· Dress in layers and don't forget your mittens and a hat that covers your ears

· Children should wear neck warmers instead of scarves

· Wear sunscreen. Sun reflecting off the snow and ice can cause sunburn

· Beware of the wind-chill factor and dress for colder weather

· Wear proper helmets for snowboarding, it is also recommended that helmets be used for tobogganing and skating

· Make sure children do not play on snow banks near the roads snow plough operators may not see them

· Snow tunnels and forts can be dangerous because the roof might collapse on you, do not put a roof on them